UPDATED: Get your complimentary copy of the 2019 NSS BPS report and Security Value Map today!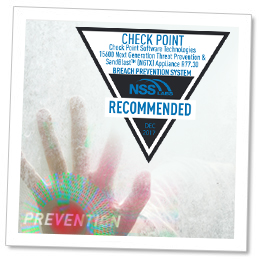 We are pleased to announce that Check Point achieved NSS Recommended in the recent 2017 NSS Labs Breach Prevention System (BPS) test.
Using a single consolidated 15600 gateway, Check Point achieved the highest security effectiveness score and the lowest total cost of ownership (TCO). This was NSS Labs' first test of advanced threat prevention products where the ability to prevent – rather than detect – attacks was tested, and provides independent validation of our assertion that done correctly, cyber-attacks can be prevented.
This is our 4th NSS Recommended award in 2017 and our 17th NSS Recommended rating since we began testing with NSS in 2010. We are proud to deliver these superb results in independent validation, and offer them to our customers as evidence that they made the right choice in selecting Check Point.
Welcome to The Future of Cybersecurity
If an attack can be prevented, then why only detect it and then try to find evidence of it buried in thousands of detection logs? Despite the clear benefits of prevention over detection, implementing that has been held back by two primary problems – false positives and operational delays.
First, incorrect blocking of legitimate production traffic is a risk many businesses cannot accept. Second, unacceptably long times to inspect and reach a 'block/pass' decision delays the delivery of files and so can negatively impact business operations – both are legitimate, yet surmountable problems.
Here at Check Point, we are solving these problems in order to make prevention possible. We are intensely focused on building products that prevent attacks before they inflict damage. As the test results show, we had zero false positives in this NSS BPS test. Further, Check Point SandBlast ensures delivery of clean and safe files – without delay.
In part, this is why we believe we're entering a new era in IT security with advanced threat prevention. And our NSS BPS results show that prevention is possible and that Check Point is making it possible. We believe this marks a key milestone in IT security toward advanced, integrated security solutions that proactively and reliably prevent attacks.
A Deeper Look At How We Earned The NSS Recommendation
Let's take a closer look at the very comprehensive Breach Prevention test. Covering security, performance and TCO, the test consisted of…
Over 2,400 attacks using five different attack types and delivery mechanisms.
132 evasion techniques in eight different categories.
Multiple performance and capacity measures including two different "real world" traffic mixes.
Multiple total cost of ownership analyses concluding in a 3-Year TCO valuation and Security Value Map (SVM)
Achieving 'NSS Recommended' status requires performing excellently in the three most important purchase criteria elements – security, performance and TCO.
We submitted our Check Point 15600 Next Generation Threat Prevention & SandBlast (NGTX) security gateway; both designed from the ground up to prevent known and unknown attacks before they inflict damage. Some highlights:
• 100% Breach Block rate:
• 100% Breach Prevention System Block Rate
• 100% protection against Drive-By exploits.
• 100% protection against Social Exploits.
• 100% protection against HTTP Malware.
• 100% protection against Email malware.
• 100% protection against Off-Line Infections.
• 0.0% False Positives
• 99.2% Evasions
• Lowest TCO per protected Mbps
• Throughput Rating of 9,268 Mbps (3x better than our real world production rating)
Last, let's look at the NSS BPS Security Value Map (SVM).
Check Point's Commitment To Prevention
Check Point has one singular focus: security.  It is with this focus, this drive, this culture that we have been able to deliver products and services that excel under test and in real life conditions.
Every day, the stakes continue to grow.  Today's IT environments are complex, multi-dimensional, and absolutely vital for business success.  They must operate flawlessly in the face of relentless and sophisticated attacks.  In turn, IT security capabilities must evolve and improve to protect businesses against these threats.  Our firm belief and commitment to prevention drives our innovative approach to advanced threat prevention.
The NSS BPS test is a milestone. Our results speak to our commitment to excellence on delivering prevention to the world of cyber security:  seventeen NSS Recommended awards since 2010 and counting!
You can find our full Breach Prevention Test Report and SVM here.