After analysing April's threat data from a global network of sensors and millions of data points, Check Point researchers published the latest Global Threat Index today. Crypto-mining malware remains a growing threat to organizations all across the world, as cyber-criminals are taking advantage of insufficient security practices by targeting unpatched vulnerabilities.
April 2018 marked the fourth consecutive month where cryptomining malware dominated Check Point's Top Ten Most Wanted Malware Index. The Coinhive variant retaining the top spot as the most prevalent malware at a global reach of 16%, while Cryptoloot – another crypto-mining malware – was close behind with a global reach of 14%.
Check Point's researchers identified a new trend, in which cyber-criminals are targeting unpatched server vulnerabilities in Microsoft Windows Server 2003 (CVE-2017-7269) and Oracle Web Logic (CVE-2017-10271) in order to illicitly mine crypto-currency. A staggering 46% of the world's organizations were targeted for the Microsoft Windows Server 2003 vulnerability, while the Oracle Web Logic vulnerability was close behind, targeting 40% of organizations across the world.
Both of these patches have been publicly available for at least six months, yet nearly half the world's organizations were still affected by these known vulnerabilities. This is a clear reminder to organizations that security basics – such as patching – are critical, necessary steps to ensuring that networks remain secure. In order to truly to stay secure, enterprises must employ a multi-layered cybersecurity strategy that protects against both established malware families and brand new threats.
April's 2018's Top 10 'Most Wanted' Malware:
*The arrows relate to the change in rank compared to the previous month.
↔ Coinhive – Crypto-Miner designed to perform online mining of Monero cryptocurrency when a user visits a web page without the user's knowledge or approval
↑ Cryptoloot – Crypto-Miner that uses the victim's CPU or GPU power and existing resources to add transactions to the blockchain and releasing new currency.
↑ Roughted – Large scale Malvertising used to deliver various malicious websites and payloads such as scams, adware, exploit kits and ransomware. It can be used to attack any type of platform and operating system, and utilizes ad-blocker bypassing and fingerprinting in order to make sure it delivers the most relevant attack.
↑ Jsecoin – JavaScript miner that can be embedded in websites. With JSEcoin, you can run the miner directly in your browser in exchange for an ad-free experience, in-game currency and other incentives
↑ Andromeda – Modular bot used mainly as a backdoor to deliver additional malware on infected hosts, but can be modified to create different types of botnets.
↔ Fireball – Browser-hijacker that can be turned into a full-functioning malware downloader. It is capable of executing any code on the victim machines, resulting in a wide range of actions from stealing credentials to dropping additional malware.
↑ XMRig– XMRig is an open-source CPU mining software used for the mining process of the Monero cryptocurrency, and first seen in-the-wild on May 2017.
↑Dorkbot- IRC-based Worm designed to allow remote code execution by its operator, as well as the download of additional malware to the infected system, with the primary motivation being to steal sensitive information and launch denial-of-service attacks.
↑Nivdort- Multipurpose bot, also known as Bayrob, that is used to collect passwords, modify system settings and download additional malware. It is usually spread via spam emails with the recipient address encoded in the binary, thus making each file unique.
↓ Necurs- Botnet used to spread malware by spam emails, mainly Ransomware and Banking Trojans.
Lokibot, an Android banking Trojan which grants super user privileges to download malware, was the most popular malware used to attack organizations' mobile estates followed by the Triada and Hiddad.
April's Top 3 'Most Wanted' mobile malware:
Lokibot – Android banking Trojan and info-stealer, which can also turn into a ransomware that locks the phone.
Triada – Modular Backdoor for Android which grants superuser privileges to downloaded malware.
Hiddad– Android malware which repackages legitimate apps then releases them to a third-party store.
Check Point researchers also analyzed the most exploited cyber vulnerabilities. In first was CVE-2017-7269, with a global impact of 46%, followed by CVE-2017-10271 affecting 40% of organizations worldwide. In third place was SQL injection impacting 16% organizations globally.
April's Top 3 'Most Wanted' vulnerabilities:
↑ Microsoft IIS WebDAV ScStoragePathFromUrl Buffer Overflow (CVE-2017-7269) – By sending a crafted request over a network to Microsoft Windows Server 2003 R2 through Microsoft Internet Information Services 6.0, a remote attacker could execute arbitrary code or cause a denial of service conditions on the target server. That is mainly due to a buffer overflow vulnerability resulted by improper validation of a long header in HTTP request.
↓ Oracle WebLogic WLS Security Component Remote Code Execution (CVE-2017-10271)– A remote code execution vulnerability exists within Oracle WebLogic WLS. This is due to the way Oracle WebLogic handles xml decodes. A successful attack could lead to a remote code execution.
↓ SQL Injection– Inserting an injection of SQL query in input from client to application, while exploiting a security vulnerability in an application's software.
This list perfectly demonstrates how threat actors use both modern techniques (two vulnerabilities published in 2017) and classic attack vectors such as SQL injection.
The map below displays the risk index globally (green – low risk, red- high risk, grey – insufficient data), demonstrating the main risk areas and malware hot-spots around the world.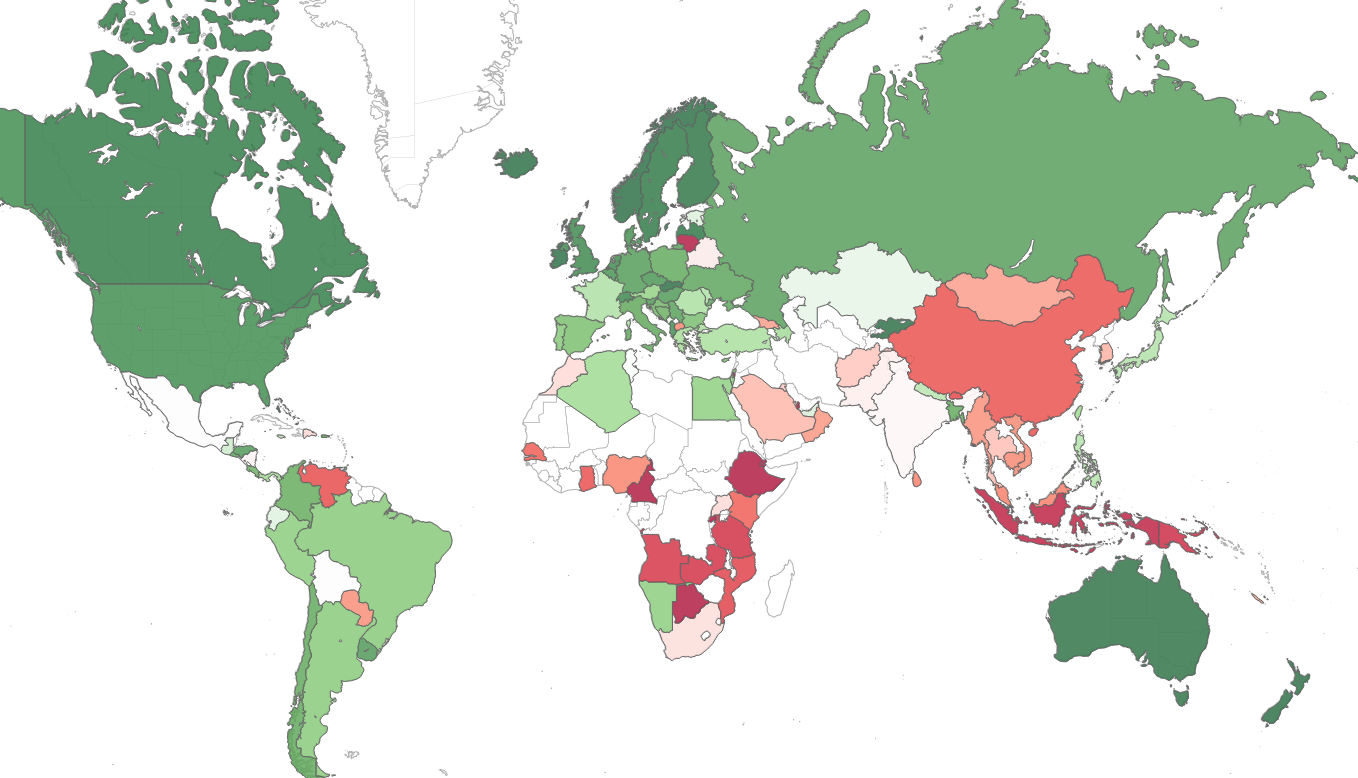 Check Point's Global Threat Impact Index and its ThreatCloud Map is powered by Check Point's ThreatCloud intelligence, the largest collaborative network to fight cybercrime which delivers threat data and attack trends from a global network of threat sensors. The ThreatCloud database holds over 250 million addresses analyzed for bot discovery, more than 11 million malware signatures and over 5.5 million infected websites, and identifies millions of malware types daily.
Check Point's Threat Prevention Resources are available at:  http://www.checkpoint.com/threat-prevention-resources/index.html