We were thrilled to learn that Check Point's consumer and small office offering, ZoneAlarm Anti-Ransomware, recently received an "excellent" rating from PC Magazine's Neil J Rubenking.
Based on the same technology that powers our enterprise-grade product, SandBlast Anti-Ransomware, Zone Alarm Anti-Ransomware went up against several competing products in a comprehensive review of the marketplace.
"Check Point ZoneAlarm Anti-Ransomware is one of the most effective ransomware-specific security tools we've seen… showing complete success against all our real-world samples," wrote Rubenking.
This news comes on the heels of Forrester Research naming Check Point a leader in endpoint security suites. Third party product testing is seen as a reliable, objective way to evaluate products, where users and decision makers know they're getting a detailed and bias-free overview of the strengths and weaknesses of a particular product.
Real-World Ransomware Protection
Rubenking put all the products to the test by introducing a real, live ransomware sample onto an isolated virtual machine – not unlike testing car safety, putting crash test dummies and actually simulating a real car accident by crashing the car.
Using a half-dozen ransomware variants that simply encrypted files and an additional Petya sample that faked a system crash in order to "reboot" (read: encrypt) the entire hard drive, PC Magazine saw how products performed in a live-fire exercise.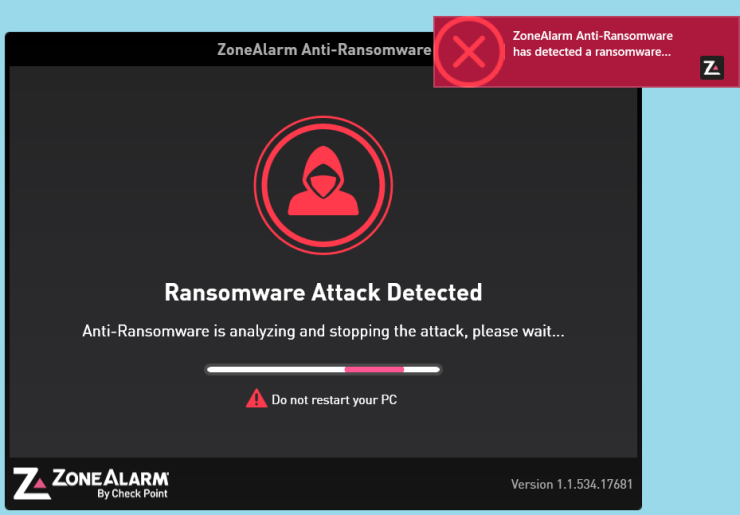 Check Point ZoneAlarm had a "truly impressive showing," said Rubenking, noting that unlike the competition, Zone Alarm restores all the files that were damaged.
Simple And User-Friendly Anti-Ransomware
Anti-ransomware isn't known for its simplicity – and that's a barrier to protection, as user error is a major factor in successful breaches. ZoneAlarm, with its intuitive and simple user interface, seeks to minimize user error as a way to maximize its effectiveness. PCMag noted this ease-of-use, writing positively about the lack of clutter in the main screen.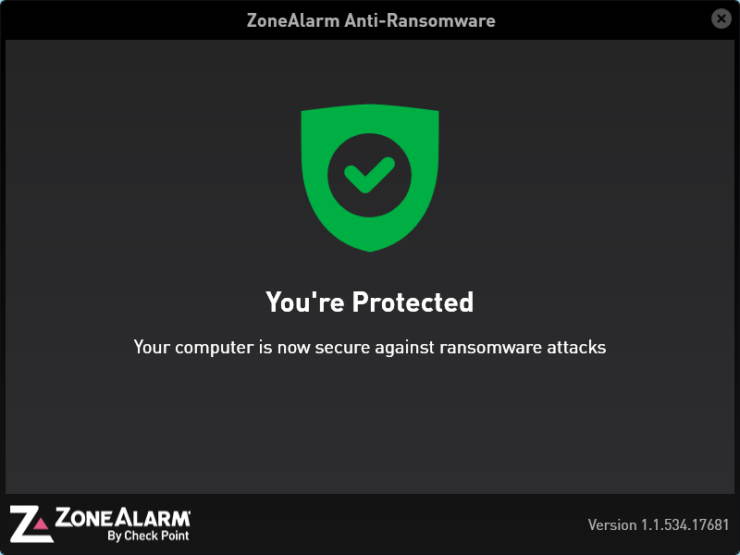 Bottom line:
Just last year, ransomware caused $5 billion dollars in damage to companies around the world. While Check Point's enterprise offering works to secure 97 percent of companies that are still generations behind in their cyber-security, Zone Alarm offers the individual consumer their own protection.
As PC Magazine notes, ZoneAlarm not only detects and blocks ransomware – it also restores any damage caused by the attack. Fully compatible with all antivirus solutions, ZoneAlarm Anti-Ransomware offers the individual and small businesses access to the best-in-class cybersecurity firepower that Fortune 500 companies rely on.
As Rubenking wrote in his PCMag review: "Among the ransomware-specific tools I've evaluated so far, ZoneAlarm Anti-Ransomware is a clear winner… successfully handled all my real-life ransomware samples, and it fixed all changes made by the ransomware processes…"
Learn more about Check Point ZoneAlarm here.