The 21st century student has the world at their fingertips.
They can access the entire collection of human knowledge just by typing a question into Google. They can mingle with their classmates from down the block in the same group chat as their friends from continents away. The internet's vast power and reach has expanded minds and fostered collaboration — but not without a cost.
The aforementioned vast power and reach has opened new avenues for inappropriate behavior and malicious cyber attacks. Nearly 90 percent of K12 students have witnessed their peers get cyberbullied, while over 90 percent of kids between the ages of 8-16 have been exposed to online porn. And around a year ago, the US Department of Education issued an alert to school districts around the nation, warning that "schools have long been targets for cyber thieves and criminals".
The web needs to be an asset, not a liability, for our children's education. As a global leader in cyber security, we realized that we had to do something.
Check Point is proud to introduce SandBlast for Education, a simple yet robust solution with the highest level of security for school districts that use Google Chromebooks. Offering an easy-to-install Chrome browser-extension with G-suite integration capabilities, SandBlast for Education integrates seamlessly into the school's current cyber security infrastructure while helping the school achieve CIPA compliance.
It's Time the Internet had real Adult Supervision
According to CIPA (Children's Internet Protection Act), it's the responsibility of a school to protect students while using school-issued devices on and off campus.
SandBlast for Education enables teachers to supervise their students by allowing for the monitoring of students' online behavior, blocking social media pages with specific, offensive keywords, and stopping students from posting messages with offensive content.
With extensive URL filtering capabilities directly from the Chrome browser, SandBlast for Education puts safeguards on browsing, enforcing SafeSearch for Google, YouTube, Bing, and Yahoo, while preventing students from using their school credentials to access non-trusted websites.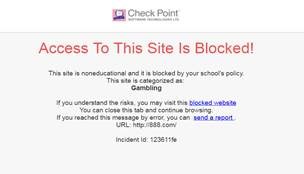 Protecting Against Phishing Attacks and Malicious File Protection
You won't get sick every time you eat without washing your hands – but if you never wash your hands, you're bound to get sick, eventually.
Downloading files off the internet works the same way. While not every emailed attachment has malware, and not every piece of food has viruses… malware is often transmitted through .docx files, especially when sent from an unknown source.
Sandblast for Education washes the students' hands and sterilizes their utensils by automatically cleaning downloaded documents from potentially malicious content, scanning for threats and converting the files into risk-free PDF when needed.
And by dynamically detecting and blocking phishing websites, Sandblast for Education prevents students from unwillingly providing their personal and private information to cyber criminals hoping to make a quick buck off of children surfing the web.
Smooth Integration with Google
With over 20 million students using the devices, Google Chromebooks are a behemoth in the education tech space. At a staggering 49 percent of the market share, they're the de facto student laptop in classrooms across the world.
Recognizing this reality, Sandblast for Education is designed to configure seamlessly with the Google Suite via an easy-to-install Google Chrome browser extension.  SandBlast for Education unifies Check Point's top-rated security infrastructure, management and logging capabilities with the school's existing cyber security infrastructure, centrally managed through G-Suite.
By making it as easy as possible for the school district's IT staff to actually implement the solution, Sandblast for Education enables educators to focus on the important work they do with the students.
Safer Web for Safer Learning
With monitoring and filtering capabilities, security measures, and full CIPA compliance, Sandblast for Education offers a security solution that's easy to implement and tough to crack.
Learn more about Sandblast for Education here.