As cyber-attacks continue to evolve in scale and sophistication, the amount of internet traffic facing enterprises and data centers rises accordingly. Doubling every three years, this massive increase of encrypted traffic over SSL becomes even more of a challenge for complete security.
There's only one way to manage this – enter R80.20 Cyber Security Management.
With new, innovative AI engines – dubbed Cadet, Campaign Hunting, and Huntress – R80.20 boasts triple the threat prevention accuracy, with a higher catch rate and lower false positives. R80.20's new software acceleration engine can reliably inspect 60 percent more encrypted traffic than before, allowing for modern security that's fit for modern traffic appetites.
Highest Security Effectiveness
Using the power of AI in Check Point's Threat Cloud, the AI engines used by R80.20 prevents 3,000 unknown malicious attacks and detects over 400 unique malware… every week. With our new Cadet AI engine, we're able to double our ability to detect threats while reducing our false positive rate by ten-fold.
Another new AI engine, Huntress, offers a dynamic analysis platform – a sandbox – to let the malicious executable, collect hundreds of runtime parameters, feed those to the AI engine, and categorize these executables. What does this all mean? It means that you get a dynamic engine capable of detecting malicious executable beyond what is seen through AV and static analysis – this engine is responsible for 13% of the malicious executables we detect.
And finally, with the Campaign Hunting AI engine, our algorithms are now capable of analyzing millions of known IOCs and hunt for additional similar IOCs, resulting in a new threat intelligence feed that offers first-time-prevention to attacks we've never seen before – accounting for more than 10% of the attacks we block.
Operational Excellence
R80.20 Cyber Security Management isn't just better at preventing threats and inspecting traffic – it's also much easier to use. With a new cyber attack dashboard, R80.20 allows for real time forensic and event investigation from one pane of glass. System Administrators can respond to security incidents in real time. R80.20 even has support for unified logging and monitoring for Security Gateway, SandBlast Agent and SandBlast Mobile. R80.20 allows system administrators to multi-task, allowing them to open multiple sessions simultaneously without having to publish or discard unfinished work.
To achieve operational excellence, one of our goals is to deliver frequent General Availability releases directly for the Security Management. Each Management Feature Release will include new enhancements to the user experience as well as opportunities to implement new API's and various improvements to managing all aspects of cyber security.
Upgrade Your SmartConsole
With this new release, Check Point customers with older versions can get more out of their appliances – by simply upgrading, they can see massive gains in performance: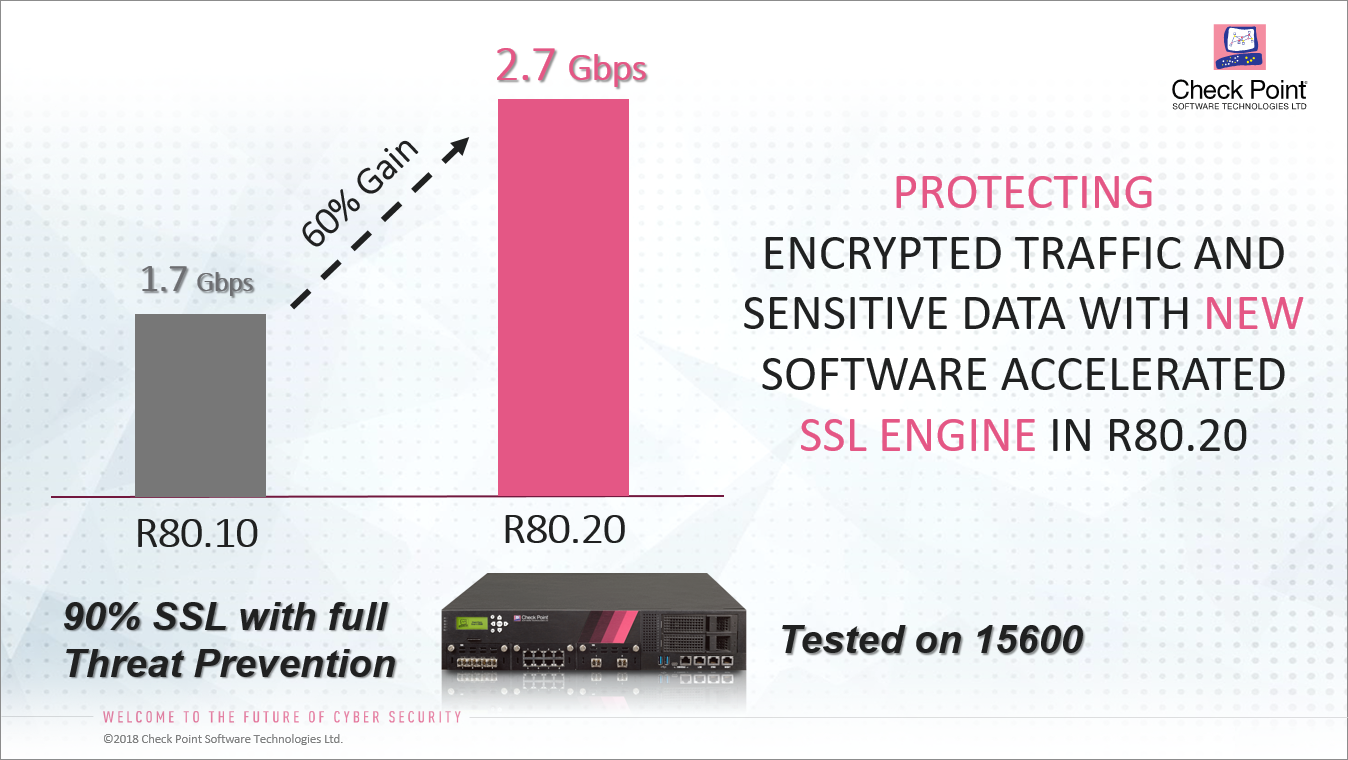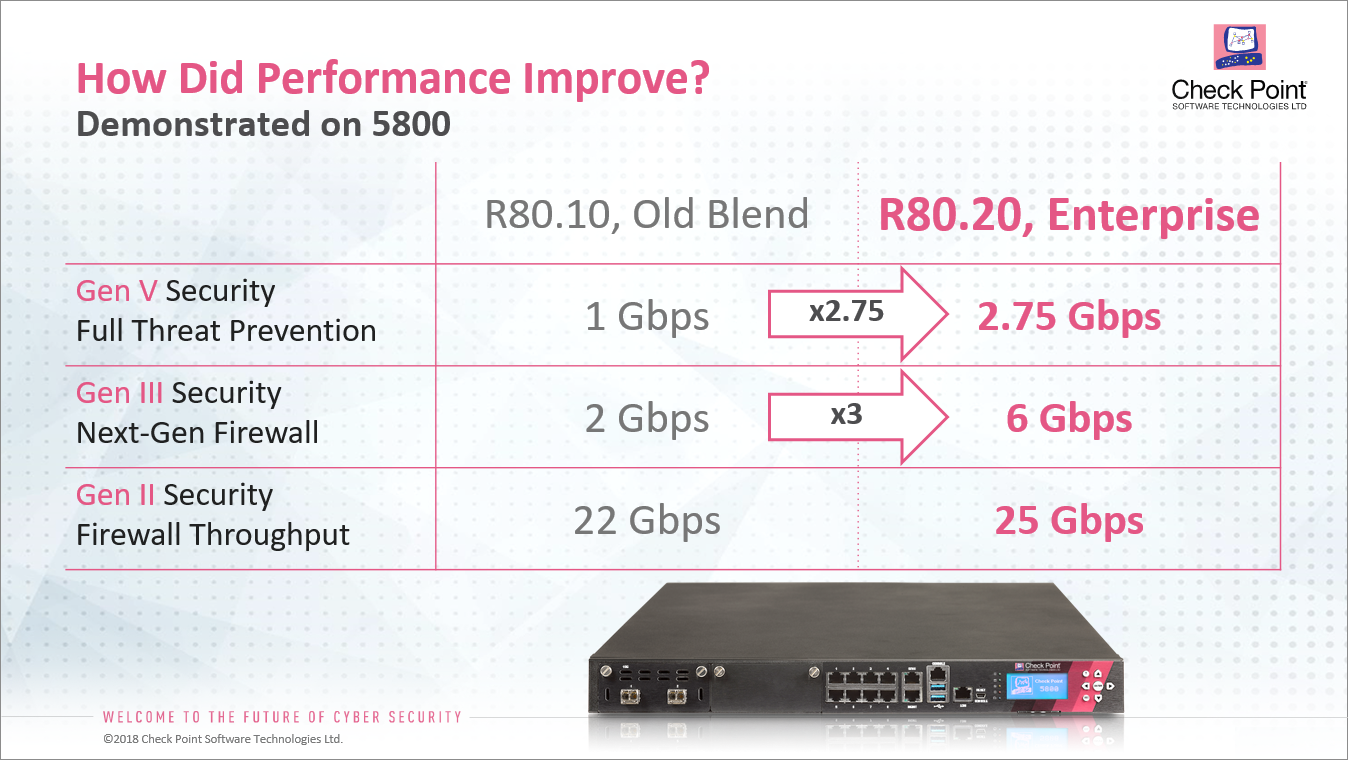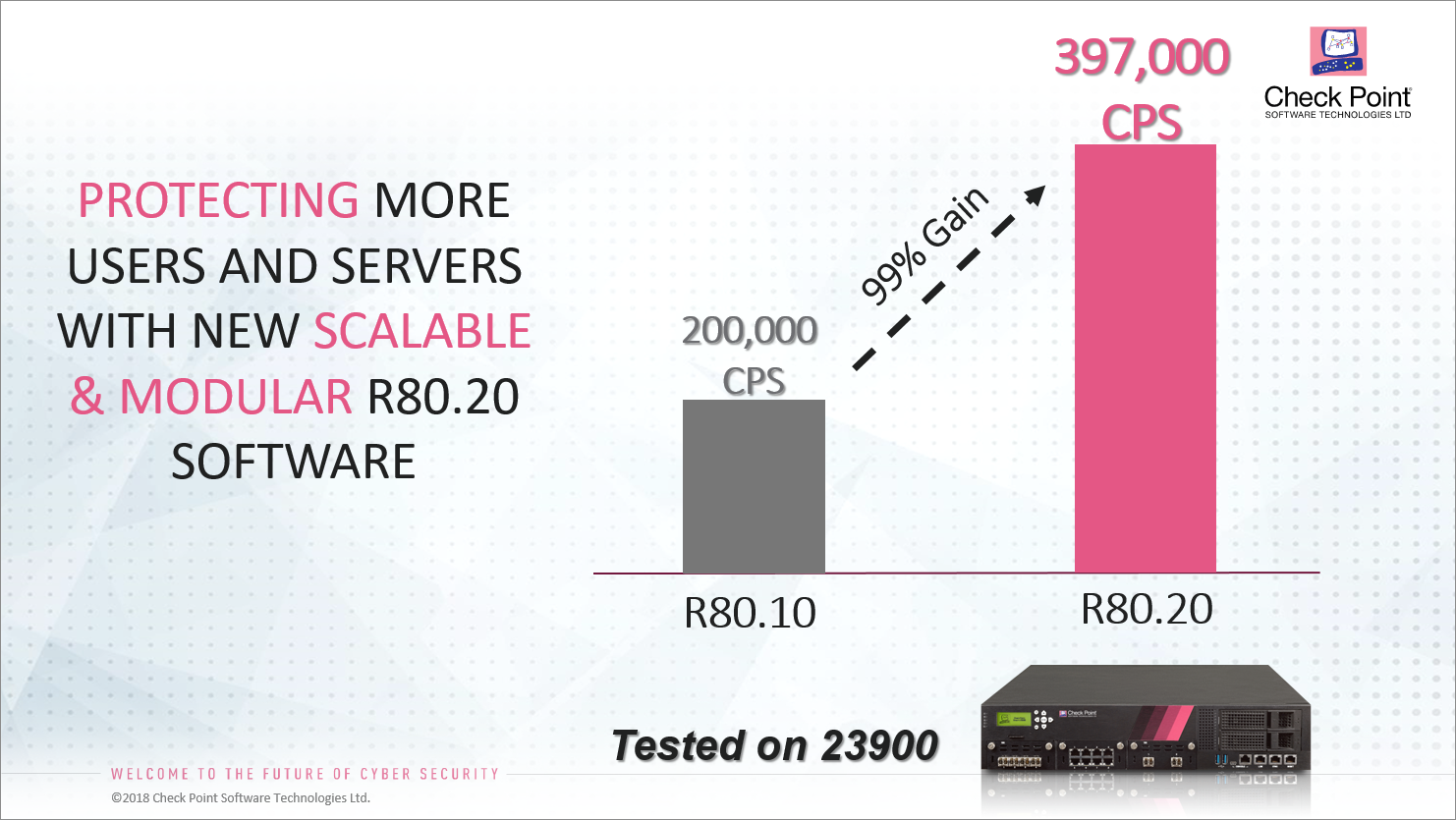 With new features, triple the threat prevention, and an easier and more efficient UI panel, R80.20 Cyber Security Management can help you and your company stay secure from the modern day Gen V cyber attacks. Learn more on Check Mates here and check out the webinar here.