By Russ Schafer, Head of Product Marketing, Security Platforms
As more applications move from the datacenter to the cloud, enterprise users rely on these applications to do their daily jobs.  These SaaS applications range from productivity software like Office 365 to virtual meeting and collaboration tools like Zoom and Slack.  Applications that include voice and video require consistent high-quality bandwidth. For IT organizations that are managing remote users and branch offices, it can be a challenge to accommodate these needs in a way that's efficient, secure, and cost effective.
WATCH A REPLAY OF THE VMWARE AND CHECKPOINT BRANCH SECURITY WEBINAR
SD-WAN Intelligently Manages Branch Internet Connections to Optimize SaaS Performance 

As enterprises move their branch applications to the cloud, they are adopting Software Defined  Wide Area Networking (SD-WAN) to intelligently route traffic directly to the internet without passing it through the datacenter.  SD-WAN brings enterprise-level manageability, performance, and reliability across branch offices.  This enables enterprises to support branch office application
growth and streamline access to cloud services and private data centers regardless of the transport mechanism including broadband Internet, wireless and MPLS lines.
Branch SD-WAN Security Risks Increase with Local Internet Broadband and Wireless Connections 

Connecting branch offices directly to the internet significantly increases their security risk and security management costs. Branches are no longer protected by centralized data center  security, which exposes them and the enterprise WAN to sophisticated multi-vector Gen V cyber-attacks.   Enterprises could deploy traditional security gateway appliances in all branch offices to protect Internet traffic.  This would provide the maximum security for all branch  offices, but some locations may not have the local IT resources to support them.  Enterprises need additional security solutions that can be quickly deployed across all branch offices, are always up to date with the latest security, and can be seamlessly integrated with existing routers or SD-WAN solutions.
Check Point Transforms Branch Connectivity with Cloud-Delivered Security Services
Check Point announced CloudGuard Connect and CloudGuard Edge to transform branch office connectivity with cloud-powered security services. Check Point CloudGuard Connect and Check Point CloudGuard Edge both deliver:
top-rated Threat Prevention updated in real-time with the latest ThreatCloud intelligence
flexibility to deploy branch office security in minutes
a unified threat and access management platform that can reduce operational expense by up to 40%
and seamless integration with leading SD-WAN vendors like VMware by VeloCloud
Check Point and VMware Partner to Security Branch Office SD-WAN Connectivity
Check Point and VMware ® SD-WAN by VeloCloud™ have partnered to jointly assure the performance and security of enterprise and cloud applications over the Internet and  hybrid-WAN while dramatically simplifying deployments and reducing costs.
VMware SD-WAN by VeloCloud  is the industry's most widely-deployed branch and data center connectivity platform that enables simple, agile and more secure branch connectivity for thousands of customers globally. The solution establishes a secure and optimized overlay network between VMware SD-WAN Edges in distributed sites or data centers and cloud-hosted VMware SD-WAN Gateways. The overlay is independent of physical transport and providers, enabling unified control and visibility, business level abstraction and incremental migration.  The key benefits include:
Assured application performance: VMware SD-WAN Dynamic Multipath Optimization™ (DMPO) with application-aware, per-packet steering and on-demand remediation assures transport-independent performance for demanding, real-time applications.
Simplified WAN via business policy automation: VMware SD-WAN can be deployed as zero-touch appliances, virtual appliances, or hosted as multi-tenant services platforms. Business-level policies enable one-click, policy-based service chaining of traffic, e.g. Check Point Firewall insertion, to enterprise service hubs on the branch edge or in the cloud.
Managed cloud on-ramp: VMware SD-WAN's system of cloud gateways uniquely provides a managed cloud onramp. Unlike "best effort" direct branch-to-cloud alternatives, the full capabilities of VMware SD-WAN are deployed at the doorstep of cloud apps and provide optimized and secure connectivity to SaaS, IaaS and network or cloud security services.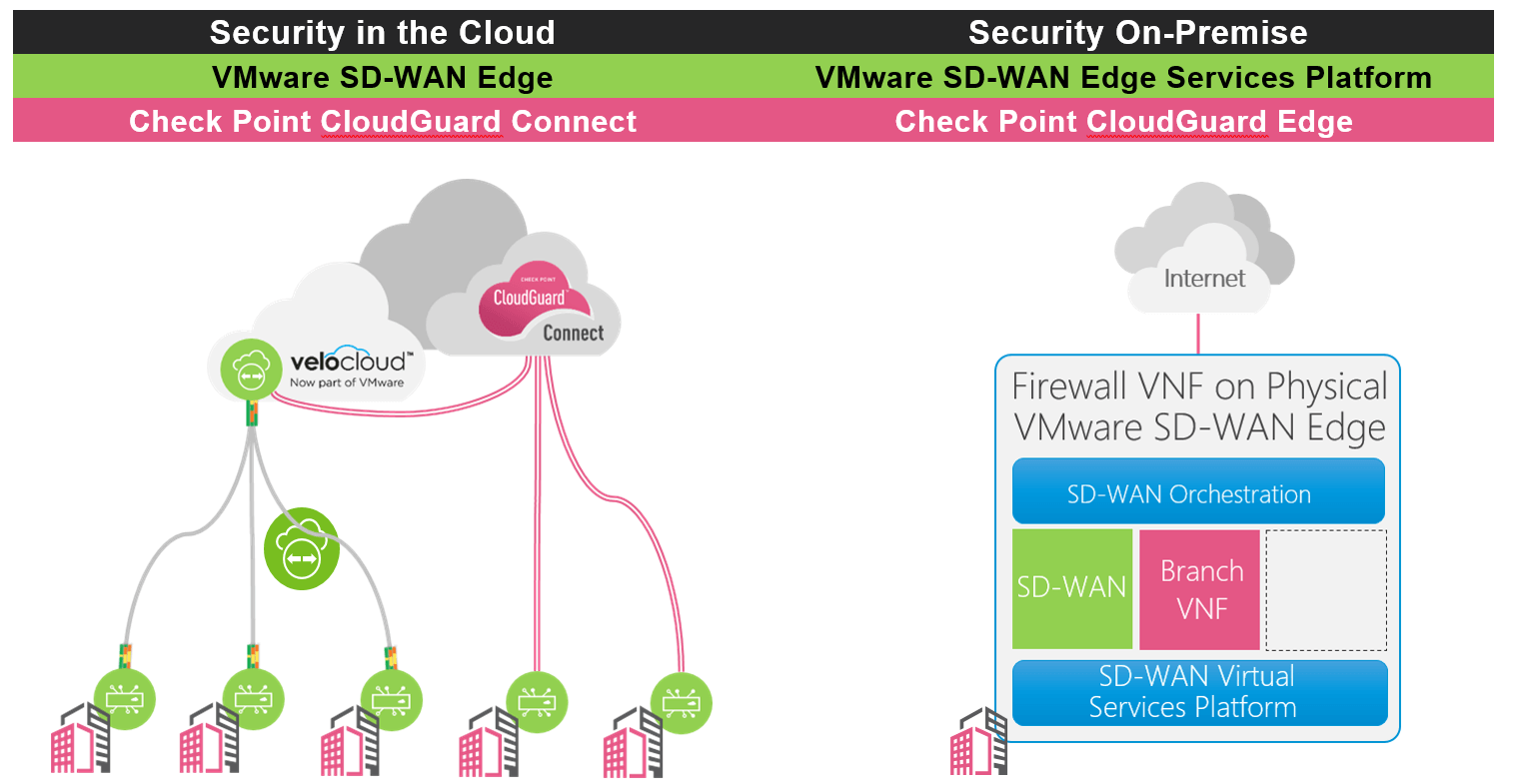 Check Point Cloud-Delivered Security Prevents Branch Office Zero-Day and Gen V Attacks
Check Point provides organizations of all sizes with integrated, advanced threat prevention, reducing complexity and lowering the total cost of ownership.  Check Point CloudGuard Connect and CloudGuard Edge prevents threats with:
Top-rated Threat Prevention with 100% Block Rate. Check Point achieved the highest security effectiveness score in the 2019 NSS Labs Breach Prevention Systems (BPS) group The NSS Recommended Rating marks Check Point's 20th since the 2010.
Real-time security Intelligence from ThreatCloud. ThreatClould gathers threat intelligence from 86 billion security decisions, 4 million file emulations, and 7000 Zero-Day attacks every day.
Innovative solutions that combine cloud-hosted patented CPU-level inspection and
OS-level sandboxing to prevent infection from the most dangerous zero-day and sophisticated Gen V attacks
Watch a replay of the Check Point and VMware webinar to learn more about Securing Your Branch Office SD-WAN Connectivity to the Cloud.