By Jonathan Maresky, Product Marketing Manager, CloudGuard IaaS, published November 27, 2019
AWS re:Invent 2019, which takes place in Las Vegas next week from Dec 2-6, is undoubtedly the biggest annual cloud event. This is the 8th year of re:Invent and the number of attendees, learning sessions, number of Vegas locations, new product announcements and excitement increases from year to year:
The first re:Invent was held at one Las Vegas venue, had over 150 sessions and around 6,000 attendees; re:Invent 2019 is spread out over 6 venues, has over 2,500 sessions and over 60,000 attendees.
If this is your first time at this wild and wonderful web-based workload, I've put together a list of five best practices for AWS re:Invent so you can get the most out of the event.
1. Define your objectives
What am you trying to achieve from the event?
Are you there to learn about AWS and its many services and capabilities? You can take advantage of the hands-on labs and breakout sessions, bootcamps and gain valuable AWS certifications. You can also learn about AWS partners and their offerings. And you can meet them face-to-face at the huge Expo (see Best Practice #4).
Are you there to do business and meet existing or potential customers?
You also may be interested in forming business or technology relationships with possible partners. Perhaps your role in your organization does not involve lead-generation, but rather solidifying existing relationships with people or companies that you know will be attending the event? Every re:Invent attendee has a different objective. Once you have defined what you are trying to achieve, it is easier to plan for the event (see Best Practices #2 and #3 below) in order to best achieve these objectives.
2. Plan ahead with your company
By the time you read this, if you haven't planned for AWS re:Invent, it is already too late.
Depending on your organization and what you are working to achieve at AWS re:Invent, planning should start 3-6 months in advance.
To ensure you achieve maximum impact at the event, product announcements and press releases, partnerships, customer success stories, integrations with AWS services and many other achievements, must be initiated months in advance in order to be ready on time.
One of the most important ways to plan for re:Invent is to consult with your AWS Partner Network (APN) lead. Partner leads help your organization align with AWS and are the best path to help you to meet your business, product and technology objectives.
3. Plan ahead for yourself
Five full days at AWS re:Invent may seem like a long time, but they will pass very quickly and you will be left bewildered afterwards, wondering what happened.
If you plan to meet customers, partners or AWS contacts, schedule these meetings well in advance of the event, because peoples' schedules get full.
If you plan to attend the learning sessions, you should schedule these well ahead of time in order to get a seat. Remember to arrive at your session at least ten minutes before the session starts. If your session of interest is full, try to waitlist yourself or alternatively, stand in line and hope for the best.
My favorite sessions are the keynotes. I especially enjoy Dr. Werner Vogel, AWS's CTO. AWS's CEO Andy Jassy always has an excellent keynote which is filled with announcements and customer stories. If you can't attend the event, you can livestream the keynotes.
A strong word of warning: if you plan to attend sessions at multiple venues, be very careful because the travel time between venues will take you longer than expected, and you will waste precious time.
I always take a notebook and make copious notes for follow-up after the event. And don't forget to download the mobile app so that you can keep on track with your plans.
4. Expo, Quad and (Just Say No To) Swag
The Expo floor is located at the Venetian and is packed full of sponsors, partner theatres and other lounges. I recommend scheduling some time to walk the floor, see what your competitors are doing, visit AWS booths and get a better understanding of the trends in the AWS ecosystem.
The Quad is in the Aria and also includes sponsor booths, an Industrial IOT demo space, a new Robotics Lair and other attractions.
Most vendors use giveaways, also known as swag, to attract passers-by. These cheap (and often plastic) products are difficult to resist, generally not needed by event attendees and often end up in the trash shortly after the event.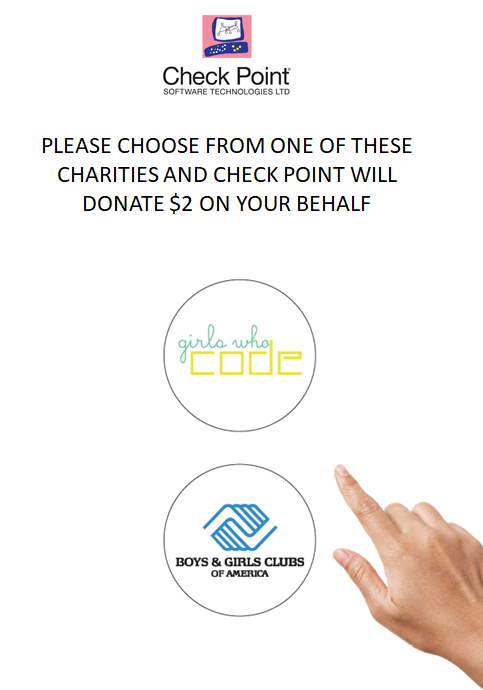 I'm proud to say that Check Point has taken a principled approach to swag. At AWS re:Invent, instead of using swag to attract event attendees, Check Point will donate $2 for each attendee who swipes their badge, to the charity of their choice (Girls Who Code and Boys and Girls Clubs of America). We hope other companies will follow our positive social and environmental example.
5. A healthy mind in a healthy body
AWS re:Invent is a long and arduous event. You should think about it as a marathon and not as a sprint. Pace yourself.
Drink a lot of water and keep yourself hydrated. I recommend that you keep a stainless steel refillable water bottle instead of single-use plastic bottles.
Wear good socks and comfortable shoes; you'll thank me afterwards. If you like waking up early and you're very energetic, there's a Fun Run with proceeds going to various charities.
I hope you've enjoyed my five best practices for AWS re:Invent.
Tell me more about Check Point at re:Invent!
Roy Feintuch, Check Point's Cloud Chief Technologist will speak about "Protecting You from You: Customer-Caused Security Breaches" on Monday, Dec 2, 4:45-5:45pm at Venetian, Level 4, Marcello 4403.
Andy Smith, Manager of Cybersecurity Operations at Sallie Mae, will talk on "Master your security in the cloud", and will describe how the company uses Checkpoint CloudGuard Dome9 from AWS Marketplace to enforce and automate AWS security.
Check Point is an APN Advanced Technology Partner with Networking and Security competencies. The CloudGuard product family is integrated with many AWS services including AWS Security Hub, Amazon GuardDuty, Amazon CloudWatch, AWS Security Hub, AWS Transit Gateway, AWS CloudTrail and VPC Flow Logs.
Check Point is also a Platinum sponsor of re:Invent. Please meet us at booth #408. We'll have booth presentations every hour about CloudGuard products including:
Email us to schedule a meeting with one of our executives, product management, sales or technical experts.
We're looking forward to seeing you in Las Vegas next week!
Follow and join the conversations about Check Point and CloudGuard on Twitter, Facebook, LinkedIn and Instagram.