Insights from our customers
At Check Point, we are continually working on enhancing the solutions and services we offer. Regular surveys are sent out to customers across regions, industries, and company sizes, who use a variety of Check Point products. With these surveys, our goal is to gain insight into our customers' experiences, better align with their business needs, and enhance their security posture and level of satisfaction.
In a survey conducted by the Check Point Survey and Market Research Department earlier this year, we asked 881 customers about their experience with Check Point. The survey results demonstrate a significant improvement in the overall customer experience, specifically regarding Check Point's solutions.
The survey showed that customers mainly perceive Check Point as:
Why Check Point? We Asked New Customers
When new customers were asked why they chose Check Point, they pointed to solution capabilities and market leadership as key factors. The solution capabilities that had the biggest impact on their decision included Check Point's Security Management and control, prevention and performance capabilities, as well as consolidated security architecture – Infinity.

Figure 2- Check Point's Solutions Capability that Encouraged Customers to Choose Check Point

Innovation & Leadership in Cybersecurity
New customers acknowledged Check Point's longstanding leadership in cybersecurity as a real advantage. Its reputation as one of the largest global providers is indisputable.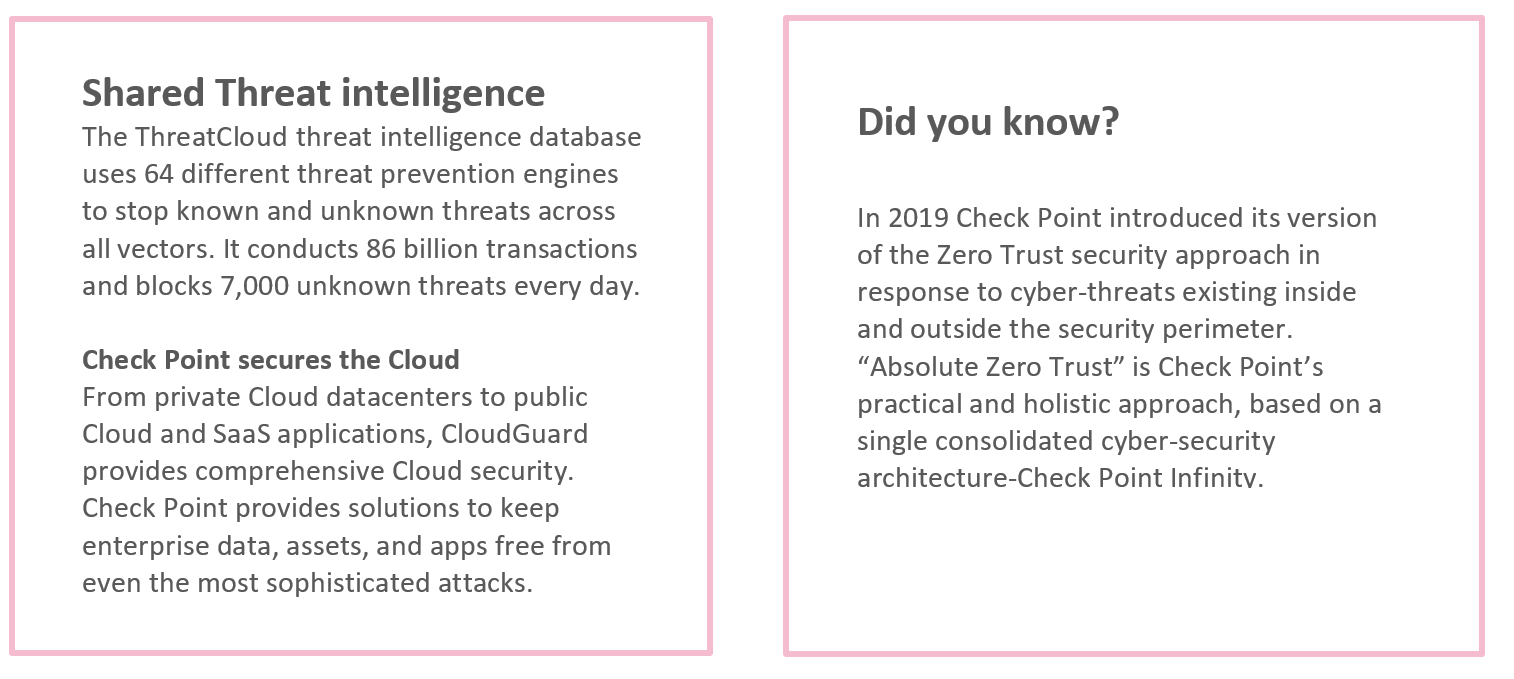 High-Quality Solutions
When asked about their experience with Check Point solutions, customers indicated significantly high satisfaction with:
Cyber Security Management was cited as customers' favorite solution on our survey!
---
Check Point Security Management  features centralized management control across all networks and Cloud environments, it increases operational efficiency, and lowers the complexity of managing security. It correlates millions of logs to identify significant events and offers forensic threat analysis in real time.
---
Customer Recommendations
Customers are happy to recommend Check Point solutions and services to other organizations! Check Point achieved very high scores when asked about the likelihood of recommending (NPS).
CheckMates Community
CheckMates Check Point community was recognized by customers as a valuable resource to obtain product updates and solutions best practices.

For further information, contact [email protected]