By Russ Schafer, Head of Product Marketing, Security Platforms, published February 7th, 2020
Businesses are accelerating their digital transformation to cloud SaaS applications like Office 365 by adopting SD-WAN. SD-WAN enables enterprises to connect directly to the Internet and remove the cloud application latency caused by routing traffic through the data center using MPLS lines. However, connecting directly to the Internet and bypassing datacenter security can expose your branch offices to advanced cyber attacks. Furthermore, built-in security from SD-WAN providers does not provide the next-generation threat prevention technologies needed to defend and protect against sophisticated multi-vector Gen V attacks.
A global leader in the chemicals industry with 40+ branches across the world turned to
Check Point and VMware as they migrated from traditional WAN to SD-WAN. The growth in their network demand didn't meet their previous on-premise network design, so they chose CloudGuard Connect for superior branch security and VMware SD-WAN for reliable WAN transport. By leveraging this joint solution, they have been able to:
Protect their branch offices from advanced cyber attacks with the same top-rated threat prevention they received from the datacenter
Improve operational efficiency at scale
Lower implementation costs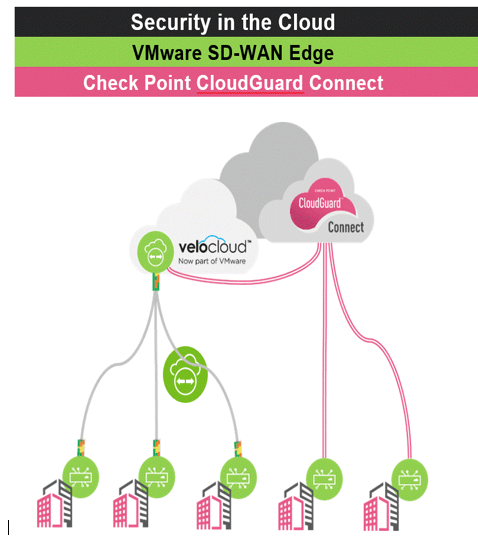 Reserve your seat today to learn how Check Point and VMware secured a global chemical company's SD-WAN network and can provide your enterprise with best-of-breed security connectivity.
Please register for the session that best fits your schedule:
February 11: 9 am London | 10 am Paris | 5pm HKT
February 13: 11 am PST | 2 pm EST
To learn more about how Check Point and VMware SD-WAN™ protect branch office connections, explore the following content and stay tuned for the on-demand webinar replay:
Solution Brief: Discover the Benefits of Secure SD-WAN
Demo: Protecting Branch Offices with Check Point and VMware
Podcast: Security as a Cloud Service: Check Point and SD-WAN Integration