By Yael Macias, Product Marketing Manager, Threat Prevention
We are excited to share the news that Frost & Sullivan has presented Check Point with the Frost Radar Best Practices Award for Growth, Innovation & Leadership in the European Mobile Threat Defense Market. This recognition is strictly reserved for companies that are market leaders and are at the forefront of innovation.
The Frost Radar is a robust analytical tool that benchmarks companies' innovation focus and growth performance in a given market. It is built conducting primary and secondary research, and an objective rating of the companies in the market. After extensive research, and independent rating of the top 11 companies in the Mobile Threat Defense market, Frost & Sullivan has concluded that Check Point is a market leader, at the forefront of innovation, consistently developing new growth strategies based on a visionary understanding of the future.
So how is the Frost Radar built?
Vertical Axis – The Growth Index. It measures a company's growth performance and track record by analyzing the following variables:
Market Share (of the past 3 years)
Revenue Growth (of the past 3 years)
Growth Pipeline
Vision and Strategy
Sales and Marketing
Horizontal Axis – The Innovation Index. It measures a company's ability to innovate products that are developed with a clear understanding of disruptive Mega Trends, are globally applicable, are able to evolve and expand to serve multiple markets, and are aligned to customers' changing needs. Key elements of this index include:
Innovation Scalability
Research and Development
Product Portfolio
Mega Trends Leverage
Customer Alignment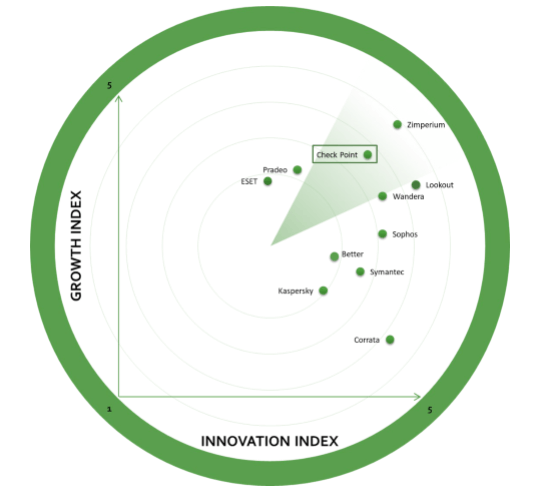 "Check Point is positioned in the upper-right section of the Radar due to remarkable Growth and Innovation scores. Apart from being committed to continuously bettering its product portfolio, Check Point successfully carries out its expansion strategy in the European market", writes Frost & Sullivan.
Get your complimentary copy of the award write-up now
Securing corporate data on mobile devices is no longer an option. If there is one thing that 2020 has taught us so far, is that organizations need to be prepared to go fully remote and mobile at any given time, thereby accelerating a trend that was already happening in 2019 when the analysis that led to the publication of this report was conducted. In the words of Frost & Sullivan "the increasing media attention to mobile security issues, BYOD adoption, along with the GDPR and PSD2 regulations are some of the key factors that will drive the demand for MTD solutions in the near future". They also note that "while malware still appears to be a considerable threat for both Android and iOS platforms, mobile phishing has become one of the major security challenges that users of Apple devices are facing today".
Mobile Security cannot wait. Secure your mobile workforce with SandBlast Mobile today.
Check Point is a Recognized Market Leader in Endpoint and Mobile Security
In the past few months, Check Point has been recognized multiple times by industry analysts and third-party tests as a market leader in endpoint and mobile security:
2020 NSS Labs Advanced Endpoint Protections (AEP) Test
SandBlast Agent achieved a 99.12% total block rate to earn an AA rating in the 2020 NSS Labs Advanced Endpoint Protection (AEP) test. No vendor in the test received higher than an AA rating.
The Forrester Wave™: Endpoint Security Suites, Q3 2019
Forrester Research recognized SandBlast Agent as an endpoint security leader in this Forrester Wave report after evaluating the most significant players in the endpoint security market based on 25 criteria. Check Point received the highest possible scores in the data security, mobile and zero-trust framework alignment criteria.
Miercom 2019 Industry Assessment of the Mobile Threat Defense Market
SandBlast Mobile was recognized as the market leader by analyst firm Miercom, after scoring highest security effectiveness in the MTD market.