By, Abigail Maines, Head of Channel Sales, Americas
Whether you are working from home for the first time, adjusting to the social distancing regulations, or balancing a job while teaching your children, the coronavirus outbreak has demanded unprecedented lifestyle changes from our community. It was, and still is, a new challenge for all of us to face. As the day-to-day situation continues to unfold, we are committed to safeguarding our employees, customers, and partners while ensuring ongoing support for local communities.
We're proud of the work Check Point and our partners have done, through The Americas COVID-19 Donation program to provide financial support to charities on the front lines of the pandemic.  This program, along with other Check Point programs around the world have collectively led to more than $1M in donations and the numbers keep growing. The donations have gone to over 80 organizations helping communities and individuals that have been heavily impacted by Covid-19. The charities chosen focus on combating hunger, frontline caregivers, senior care and the recently unemployed. In the Americas alone, our joint donations have provided over 500,000 meals through multiple charities.
These challenging times are a testament to how quickly communities band together and provide support. We have never been more proud of our employees for their empathy, inspired by our partners for their generosity, and motivated by individuals' ability to adapt and contribute to protecting the health of our community.
In addition to charitable donations, we also used our technology to help support the community during this time. As companies around the globe are looking to connect reliably and safely to their remote workforce, the need for cyber security has proven to be more critical than ever. Check Point provides people the ability to ensure best-in-class connectivity and security, allowing them to remain as productive as possible. Our ZoneAlarm Web Secure Free solution gives users 100% free protection against phishing attacks, malicious downloads and dangerous websites while they are working from home during the COVID-19 epidemic.
6 Feet Apart, but close to the Heart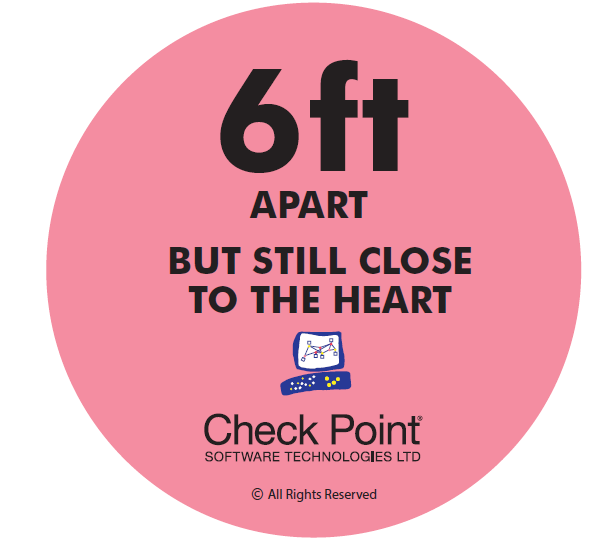 Such times of uncertainty highlight our true strengths and what makes us stand out. Thank you to our US, Canadian and Latin American partners who stepped up with their many contributions to the Americas COVID-19 Donation program in giving back to the communities that support us in these trying times. We would like to thank and honor all of the heroes on the frontline of Coronavirus for their courage and dedication.
To join us in making a donation to these organizations, visit "Check Point and Partners Give Back".
Check Point will continue to monitor the situation, provide support for local businesses and communities, and fulfill the important mission we took upon ourselves – to make the world a safer place, especially in times like these.