At the start of 2020, very few people would have predicted the events that unfolded.  The COVID-19 global pandemic caused unprecedented changes to all of our lives, and has reshaped our entire working culture. From the accelerated pace of digital transformation and move to the cloud, to the increased use of collaboration tools, cybercriminals looked to take advantage of these rapid and widespread changes for their own purposes.
We witnessed criminal, political and nation-state threat actors exploiting the COVID-19 pandemic to target organizations and individuals across all sectors, including governments, industry, healthcare, service providers, critical infrastructure, and consumers. We saw COVID-19 related phishing and malware attacks increase dramatically from a few thousand per week in February, to over 200,000 per week in late April. In May and June, as countries started to ease lockdowns, threat actors also stepped up their non-COVID related activities, with a 34% increase in all types of attack at the end of June compared to April.
As a result of the rapid move to public clouds, one of this year's key trends so far is an increase in attacks targeting sensitive cloud workloads and data. This has also led to Threat actors using cloud infrastructure to store the malicious payloads used in their malware attacks.
Globally, the most common form of attacks continues to be cryptominers, rising slightly to 22% compared to 21% in 2019, followed by mobile malware and botnet attacks at 18% and 18% respectively.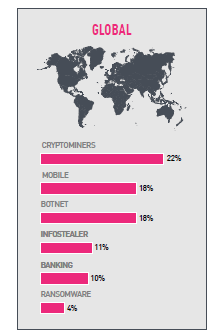 To provide organizations with the best level of protection possible for the rest of 2020, Security experts need to be aware of these rapidly evolving threats. With data drawn from Check Point's ThreatCloud Intelligence between January and June 2020, combined with primary research performed by the company's cybersecurity experts, the following report holds a comprehensive overview of the trends observed in the various categories of cryptominers, ransomware, botnet, banking Trojans, data breaches, and mobile threats.