By Michael A. Greenberg, Product Marketing Manager, Security Platforms

Register Now! August 11th EMEA & APAC | August 11th Americas
Check Point recently revealed the new Quantum Security Gateways™ that provide ultra-scalable, power-efficient protection against Gen V cyber threats. For the first time in Check Point's history, all Quantum Security GatewaysTM are bundled with Check Point's award-winning SandBlast Zero Day Protection preventing known and unknown zero day network attacks. Today, meet the new 28600 Quantum Hyperscale Security Gateway with 30 Gbps of Threat Prevention performance and a Hyperscale span of 1.5 Tera-bps.
Now more than ever, our network security architectures must emulate public cloud infrastructures, where hardware resources can be added on demand to meet growing network security needs, without disruption. Nowadays, organizations can benefit from Hyperscale capabilities to address the changing network security demands driven by work-from-home needs related to COVID-19. This is where Check Point's fastest 1U gateway in the industry comes into play.
The new 28600 and all Quantum Security GatewaysTM are Hyperscale ready, capable of handling the most rapid growth in network traffic. Check Point offers the only Hyperscale Network Security Solution to scale up existing gateways of any size on-demand, supporting over 50x their original throughput, within minutes. It gives seamless expansion to Hyperscale security, while protecting organizations' existing investments. You also get cloud level resiliency on-premises, minimizing any downtime. This Hyperscale security solution is managed intuitively with a dedicated orchestration device, which controls all of an organization's Quantum Security GatewaysTM as one unified security system, minimizing management overhead. The simplicity of the solution is in its ability to deploy gateways quickly with automated and unified management. Scaling out is as simple as adding more cluster nodes.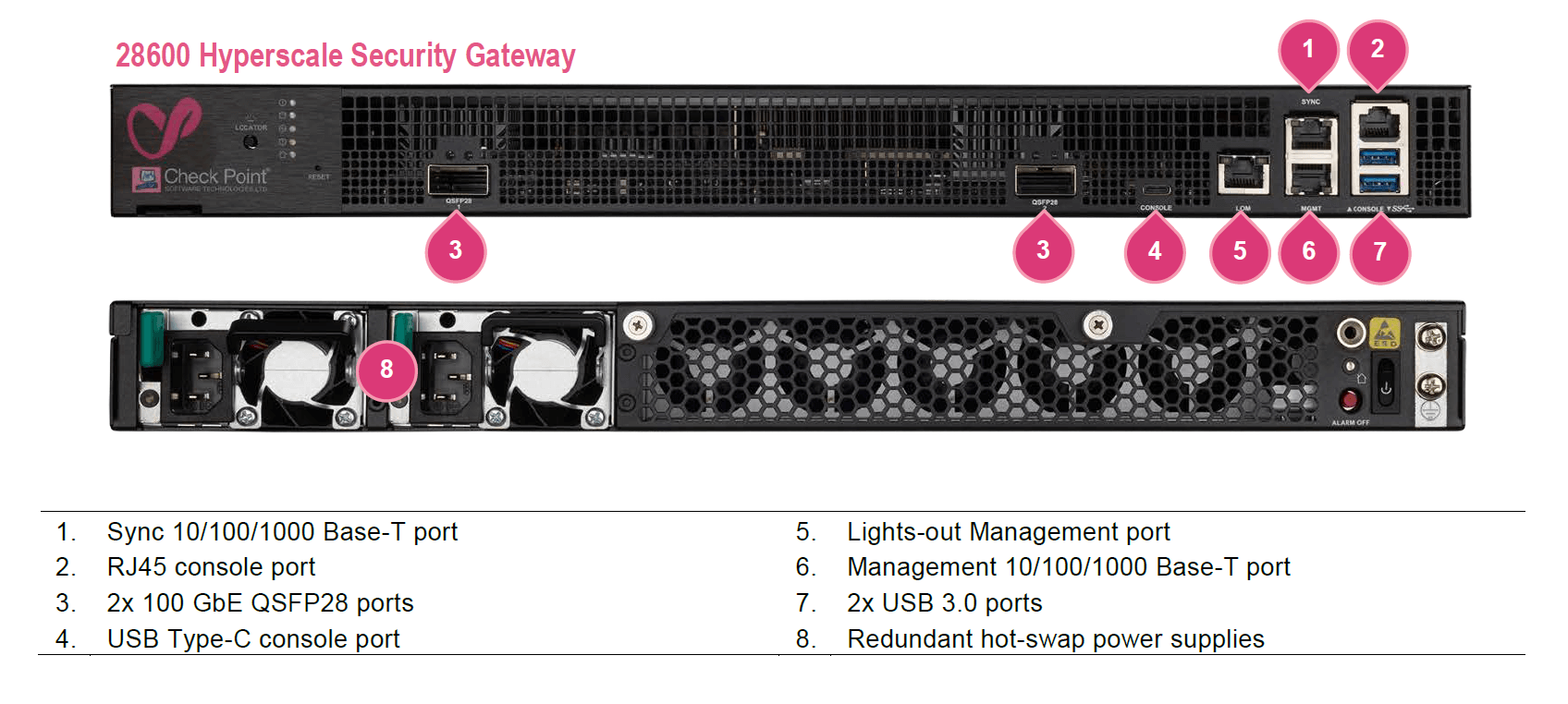 The new 28600 Quantum Gateway provides telco-grade architecture with N+1 clustering capabilities for full resiliency and redundancy. Check Point Maestro and the Hyperscale designed Quantum Gateways offer flexibility that can support many modern use cases, such as:
Capacity planning: Rather than allocate for large expenses, Maestro promotes a "pay as you grow" financial model with N+1 redundancy compared to traditional clusters. It also delivers the power to help organizations detect threats in the growing volumes of encrypted traffic.
Work-from-home needs: Easily address unplanned needs by adding gateways to clusters, applying policy management rules to new security groups, and balancing overall traffic loads.
Mergers and acquisition activity: Organizations that grow through acquisition can rely on their security operations teams to increase scale and manage policies quickly and easily.
Read the whitepaper recently published by ESG Global IT analysts, Check Point Maestro and the Need for Hyperscale Network Security to learn how our customers secure their everything with cloud-like elasticity. By using the new gateway with the Maestro Orchestrator to cluster Quantum Security Gateways™, you can easily take advantage of unified security management control across networks, clouds, and IoT environments.
Take a look at the new Check Point Quantum Security Gateway™ lineup for businesses of all sizes and see which security gateway is right for you!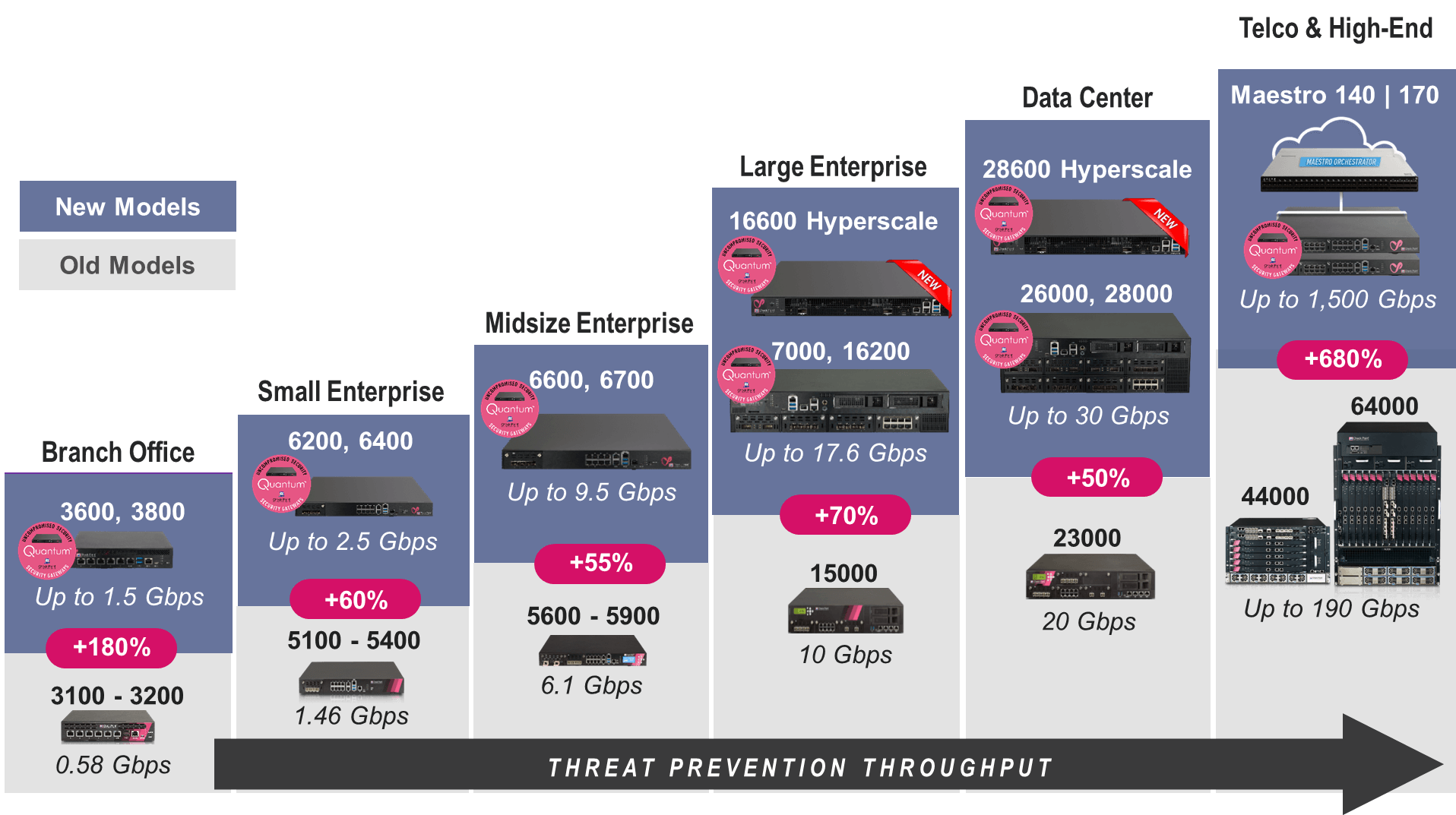 Eager to learn more? Register for the webinar "Uncompromising Security with the Industry's Fastest 1U Security Gateway" now.
August 11, 2020 at 9 am PT | 12 pm ET