By Yaelle Harel, Threat Prevention Technical Product Manager
Mobile Security is no longer optional. The working from home routine, where employees are increasingly accessing corporate data from their smartphones, extends organizations' mobile attack surface and expose them to data breaches more than ever. However, the adoption of Mobile Threat Defense solutions (MTD) can be a challenging task for security admins. Mainly because employees are usually cautious about installing applications they are not familiar w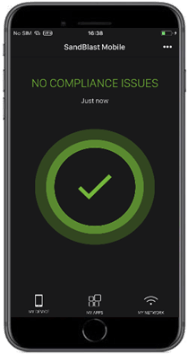 ith and are vigilant about approving configuration and security changes prompted on their device. Read this blog post to learn how SandBlast Mobile, the market-leading MTD solution, addresses these challenges with a zero-touch deployment feature that allows fast and simple adoption of mobile security across your organization.

Unfortunately, most Mobile Security solutions require users to proactively take action in order to activate the product and secure their device. Most users don't have the knowledge to check whether the Mobile Security app comes from a trusted source and don't understand the impact of the actions required from them.
It's no wonder that it takes them time to act and many of them never install or configure the Security app. As a result, devices and organizations are left exposed.
SandBlast Mobile resolves this challenge by implementing zero-touch deployment, fully integrated with Mobile Device Management (MDM) and Unified Endpoint Management (UEM) solutions (hereinafter referred together as UEM).
Take Back Control of Your Cyber-Security
Zero-touch deployment allows Security Experts and IT-Professionals to deploy SandBlast Mobile without any user interaction. This capability ensures high activation rate, which means immediate and guaranteed security.

SandBlast Mobile fully integrates with all major UEM products and can be automatically deployed by them. UEM solutions traditionally prompt the user to install the application and approve the required permissions.
SandBlast Mobile's innovative zero-touch technology allows the SandBlast Protect app and On-Device Network Protection (ONP) to be installed and activated automatically without any user interaction. The solution leverages Check Point's unique bootstrap technology to establish zero-touch activation.
The zero-touch technology brings top-notch protection to any device instantly and organizations can swiftly extend their secured devices from zero to tens of thousands. As a result, the Security Experts and IT professionals take back control of the organization's data and resources safety.
Don't Leave Your Front Door Open
You should be worried about mobile cyber-attacks as this is one of the 2020 tops trend – 18% of cyber-attacks in the first half of the year targeted mobile devices.  Choosing the best Mobile Security Solution to protect your Mobile Devices is now more important than ever. Yet, even the best Mobile Security Solution has no value if not installed.
SandBlast Mobile's innovative zero-touch technology introduces a scalable deployment that requires zero user interaction and provides full protection rapidly. Take control of your organization's cyber-security, try SandBlast Mobile now.
For more information on Check Point's zero-touch technology, download the solution brief.