Microsoft Ignite featuring CloudGuard Connect as Trusted Security Partner for Microsoft Azure 
By, Russ Schafer, Head of Product Marketing, Security Platforms
Check Point is a Microsoft featured Partner for the Microsoft Ignite online conference Sept Tue, Sep 22, 2020 – Thu, Sep 24, 2020  Stop by and meet with our Security Experts to discuss how CloudGuard Connect, Check Point SASE solution, can secure your Microsoft Azure vWAN Internet connections.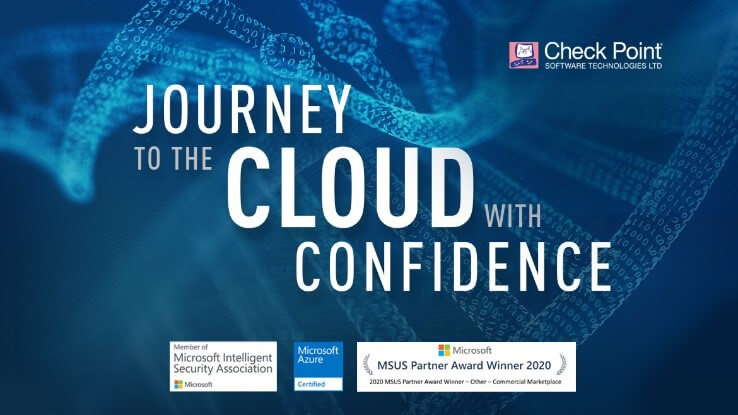 Check Point is showcasing CloudGuard Connect as a Trusted Security Partner for Microsoft Azure Firewall Manager. With CloudGuard Connect cloud-delivered security services now hosted on Azure, customers get optimal connectivity and security across the globe.
Microsoft Azure customers can seamlessly deploy Check Point CloudGuard Connect threat prevention to secure their remote users, branch offices and Azure Virtual Network (VNet) connections to the Internet. For a preview, check out this brief video that shows how the Check Point CloudGuard Connect and Microsoft Azure Firewall Manager integration works.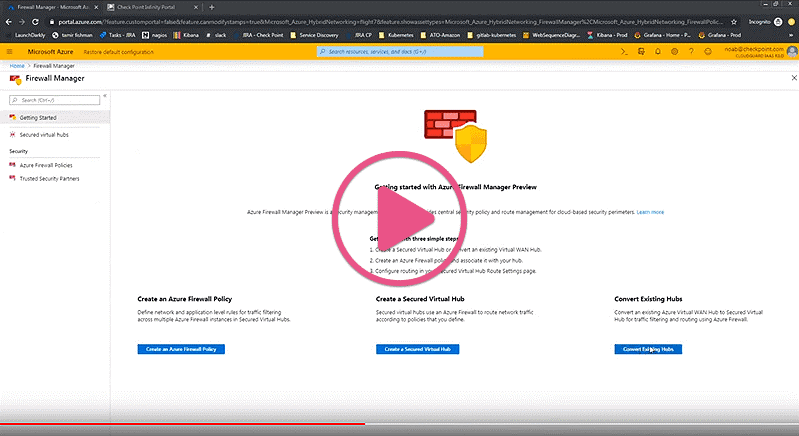 Securely Connect Remote and Branch Users to the Cloud
Today's enterprises are hyper-distributed, with applications residing everywhere including traditional datacenters, cloud data centers or accessed as cloud services, like Office 365.  Branches are now bypassing data center security and connecting to local internet providers to reduce application latency and costs.

Remote User connectivity is the new normal.  Enterprises need zero trust access controls to support network connectivity at anytime from anywhere. The only way to secure a distributed enterprise is with distributed security. How do you do that without losing control?
CloudGuard Connect, a SASE solution running on Microsoft Azure, unifies 11 security services to protect remote users and branch office Internet connections and SaaS applications from cyber attacks across the globe.  Let's take a look at what makes CloudGuard Connect unique.
CloudGuard Connect on Microsoft Azure Delivers Top-Rated Internet and SaaS Security Everywhere
Check Point CloudGuard Connect provides organizations of all sizes with advanced threat prevention security across data center, cloud, and mobile, reducing complexity and lowering total cost of ownership. Check Point protects enterprises from sophisticated cyber-attacks with:

Top-rated Threat Prevention with 100% Block Rate across. Check Point achieved the highest security effectiveness score in the 2019 NSS Labs Breach Prevention Systems (BPS) group.
Innovative security solutions that combine cloud-hosted patented CPU-level inspection and OS-level sandboxing to prevent infection from the most dangerous zero-day and sophisticated Gen V attacks.
Real-time security Intelligence from ThreatCloud. ThreatCloud gathers threat intelligence from 86 billion security decisions, 4 million file emulations, and 7000 Zero-Day attacks every day.
Zero Trust Access policy controls to enable secure network and cloud application connectivity from anywhere while reducing the attack surface
Deployment of remote access solutions in less than five minutes from the cloud, with no client or software installation.
Flexibility to deploy branch office security across multiple locations in a few minutes
A unified threat and access management platform that can reduce operational expense by up to 40%
Sign up for a CloudGuard Connect 30 day Free Trial Today!  
Protect Azure Virtual Networks and Branches with CloudGuard Connect
Microsoft Azure Firewall Manager is a new security management service that provides central security policy and route management for cloud-based security perimeters. Global admins can centrally create a hub and spoke architecture and associate security and routing policies with this Secured Virtual Hub..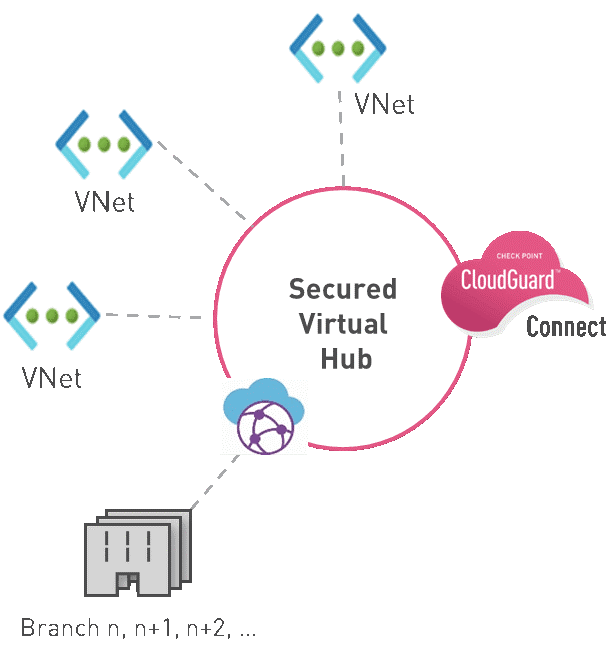 Check Point CloudGuard Connect, a Trusted Security Partner in Azure Firewall Manager, protects globally distributed branch office locations or virtual networks with advanced threat prevention. With a simple configuration in Azure Firewall Manager, you can route branch hub and virtual network connections to the Internet through CloudGuard Connect.  The result is:
Seamless branch office security to any Azure region across the globe
Uniform security policies across your network
The ability to provision and secure thousands of sites within minutes
Microsoft Azure Firewall Manager is now generally available and you can start implementing.
Sign up for a CloudGuard Connect 30 day Free Trial Today!
Get your Check Point CloudGuard Connect implementation Guide.