By Michael A. Greenberg, Product Marketing Manager, Security Platforms
Managing cyber security today is complex, there are so many things to take into consideration. Between the systems in place to operate the business, the rapid and constant changing technologies that need to be deployed and the scarcity of cyber experts, the task becomes really daunting. We are talking about delegating cyber security across our organizations, this means our networks, our data centers, and our multi-cloud environments all need to be working up to par while simultaneously preventing the next attack. They all need to be managed with ease, and until now it is just not concise and easy. There are more connected devices, new applications and sophisticated threats than we could ever imagine. And that was before the changed course for rapid digital transformation and remote work forces took place.
The key to reducing all this complexity is easy: security consolidation. Today we are welcoming to the industry Check Point's newest Cyber Security Platform: R81.
R81 is the industry's most advanced Threat Prevention and security management software that delivers uncompromising simplicity and consolidation across the enterprise. With autonomous threat prevention, R81 increases security effectiveness and reduces the workload on the IT administrator making cyber security management easier than it has ever been. Whether it is deploying the latest threat prevention technologies or automating the creation of  security policies, R81 provides enterprises the most efficient security administration and management.
We know properly managing Threat Prevention policies takes time and expertise. There are so many things to take into consideration. The ongoing maintenance of security profiles, such as IPS signatures is tedious and needs to be configured one by one. What about when a new file type arrives? The manual configuration of each new file type without proper knowhow can make it difficult to determine whether we need to clean, emulate or drop the file. And of course, we need to stay ahead of the latest threats and configure the policy based on known best practices. This requires our valuable time and expertise to really have the best Threat Prevention policies in place.
One of R81's biggest innovations to solve these challenges is autonomous threat prevention including:
AI-driven security policy designed to prevent against zero day attacks
Implement best practices in a single click
Security Gateways are immediately configured
Policies are continuously and automatically updated
Manage all gateways within the profile and determine their security level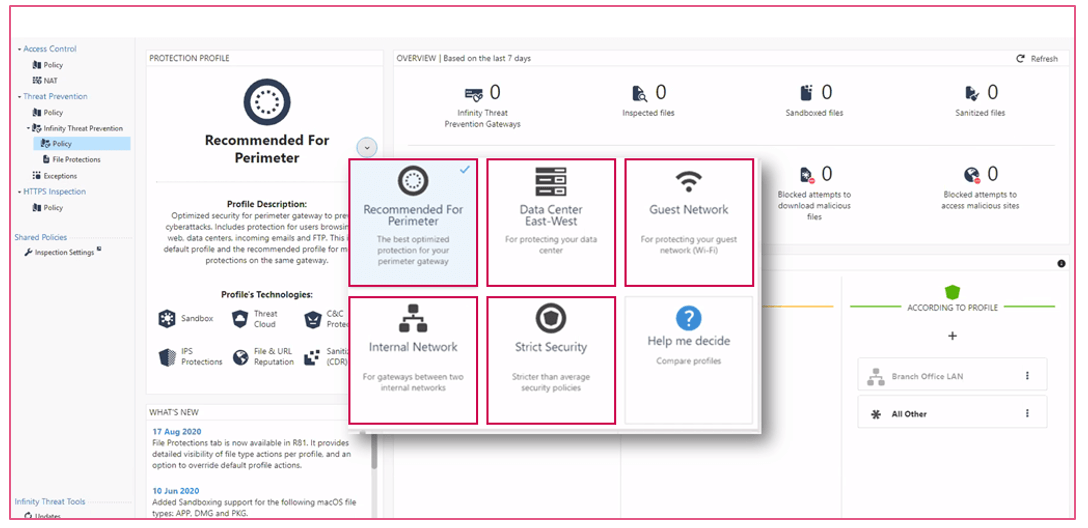 Check out this video to learn more about the new autonomous threat prevention capability:
More key highlights of the newest release include:
Automatic optimization of gateway performance – Automatically allocate hardware and core resources on the gateway to optimize its operation and provide higher levels of performance and security
Rapid response to changing security needs with fastest policy installation – Reducing policy installation time by up to 90%, from minutes to seconds. Moreover, security admins can upgrade hundreds of remote gateways to the new release in a click of a button.
Optimal security for SSL traffic – R81 is utilizing the latest standards for secure connectivity (TLS 1.3 and HTTP/2). A dedicated policy layer allows the admin to easily control the decision to inspect or bypass network traffic
Faster Event Management and Reporting Operations – up to 50% Performance improvement in generating SmartEvent Reports and Views, 25% Faster query results for all log searches
On a mission to secure your everything, every day we do more than we did yesterday. It is so important that the products, solutions and platforms we design bring simplicity and consolidation to cyber security across the enterprise. The new Check Point R81 Cyber Security Platform is already driving value for our customers:
Todd Ponto, Chief Technology Officer of AESI-US, Inc. says, "Check Point R81 gives us accelerated policy installation, one-click upgrades, and the power to simultaneously upgrade both gateways.  We had already been using Check Point Infinity Threat Prevention, so the new automatic policy deployment feature in R81 will save us time, reduce the risk of configuration error, and enable continuous updates".
Check out some of the newest features and watch the R81 videos now
Part I
Part II
Learn more and visit the website or you can request a demo to experience R81 firsthand.