By, Rafi Kretchmer, VP Product Marketing
Early in 2020, few could have predicted the devastation with the spread of a biological virus. Coronavirus, SARS-CoV-2, and COVID-19 are terms we will never forget. As a counter to the massive destruction found around the globe is a realization that people and organizations are resilient and can learn from adversity.
In 2020, not only were we paralyzed globally by a biological virus, our businesses were plagued by new cyber-attacks striking our infrastructures, applications, and devices.
Realizing that post-pandemic people and organizations will be re-built in a new world, we at Check Point took what we learned in 2020 to reformulate our cyber strategy and vision for 2021, and beyond. In order to help our customers best prepare for what is to come, we will build our innovations around these models to protect organizations from another sweeping outbreak, the cyber pandemic.
It is with this in mind, that our new strategy starts by addressing three key pillars to address cyberattacks and new attack surfaces.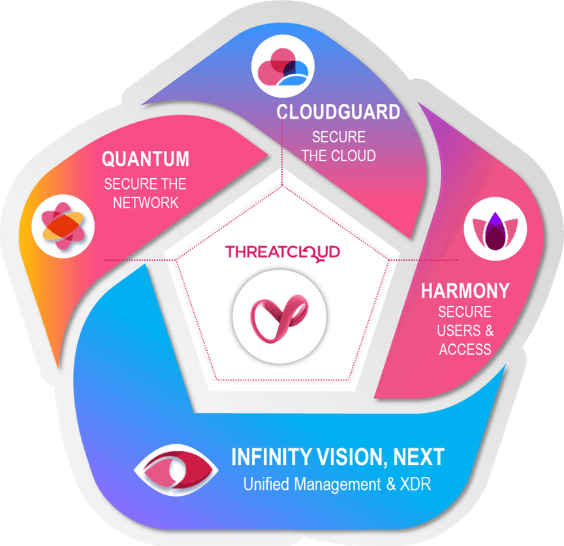 Harmony: Highest levels of security for remote employees
Protects remote employees, devices, and internet connectivity from malicious attacks, while ensuring secure, remote zero-trust access at any scale to any corporate application.
CloudGuard: Unified and automated approach to secure your cloud
Secures critical cloud workloads, both public and private. It offers cloud posture management, serverless security, and a new generation of Web Application Firewalls powered by contextual AI.
Quantum: Enterprise network security for perimeter and datacenter
Offers complete network security for every organization, perimeter, and datacenter. It encompasses IoT Nano-Security to Terabit super-networks and delivers the highest levels of security and performance to manage datacenter environments.
At the heart of it all is our unified management and threat intelligence console:
Infinity Vision: Unified Management and XDR
Provides unified security management for entire security estate from a single portal, the Check Point Infinity Portal, a cloud-based Security Management-as-a-Service (SMaaS). It offers 100% breach prevention and 99.9% precision with SOC and XDR capabilities used by Check Point Research.
These pillars were not born in a vacuum. They evolved over time, using both input from our customers and partners as well as the determination of the most effective technologies that will allow organizations to conduct business securely on the internet.
We are committed to develop and enhance our more than 80 existing solutions to align with these pillars and provide our customers with the most advanced threat prevention solutions on the market to address all of their needs on prem, in the field, and in the cloud. In each of our innovations, there are core guiding principles:
Prevention-first approach – Deploy pre-emptive user protections to eliminate threats before they reach the users
Gold Standard Management – Obtain via a single pane of glass to manage the entire security estate
Consolidated Solution – Realize complete, preemptive protection against the most advanced threats while achieving better operational efficiency
As you revise your cyber security to address the modern business models and new threat vectors in this new world, we encourage you to review "Realizing Cyber Strategies on the Road to Recovery," an executive strategy brief. We also welcome you to discuss the details of our new strategies with your Check Point security representative to see how these latest innovations can help position your business for a secure tomorrow.
Click here to obtain the strategy brief.