The coronavirus pandemic has demanded unprecedented lifestyle changes from our community. It was, and still is, a new challenge for all of us to face. As the day-to-day situation continues to unfold, Check Point Software is committed to providing a safe and enjoyable environment for its employees. In the recent months, Check Point has begun to embrace the hybrid work model and allow employees to work partially from home and partially from the office. Working in this new structure has changed the way we picture our post-pandemic work model. Therefore, we have decided to redesign tomorrow's office today. In the coming months we plan to implement a new hybrid work model were employees will have the opportunity to work in the office and from home.
As many organizations begin to embrace the hybrid work model, Check Point has held a special competition to re-design the offices of the future. Architects, interior designers, industrial designers, students, or anyone with a creative idea was given the opportunity to design what they believe and ideal hybrid-office entails. Check Point published a "call for proposals" to the general public enabling anyone to submit a design for an integrated work model with common areas, quiet rooms and recreational spaces. The call for proposals received over 80 exciting, innovative and creative office concepts. Together with our employees and professional architects, the ideas were tested and rated based on their originality, innovation, utilization of existing space, plan and quick execution, and use of available materials. We were inspired by the participants unique and forward thinking ideas as possible concepts as we begin to re-design offices suitable for the integrated work model.
In this competition our judging panel commended over 30 top designs. Many companies around the globe are re-considering how to adapt their offices in the new world. We are happy to share all of the ideas and concepts we received for organizations that are considering a hybrid work model (with the approval of the developers and thinkers). We hope that you will be inspired by these designs and find the right working model for your organization as we embark on the future of redesigning the workplace.
To view over 30 top office designs, visit the following page: https://pointoffuture.checkpoint.com/en
Here are the winning office concepts:
1st place – Orbach Halevi Architects
This concept offers a versatile hybrid space which uses flexible and smart "islands". These islands can adapt and change their shape according to the composition of the team, the nature of the work and the day of the week. The proposed concept has a variety of work platforms, from private or quiet work areas to common public spaces.
2nd place – OFFICITY
This proposal consists of three work typologies on different scales (large, medium and small) that allow employees high flexibility when it comes to managing their working lives. The concept embraces a decentralized office system that will create a more productive sustainable workspace for employees.
3rd place – Ruby and Gal, design studio
This office concept, named USER, is a versatile space that is customizable to give users a sense of belonging. With this concept, understanding the employee is at the center.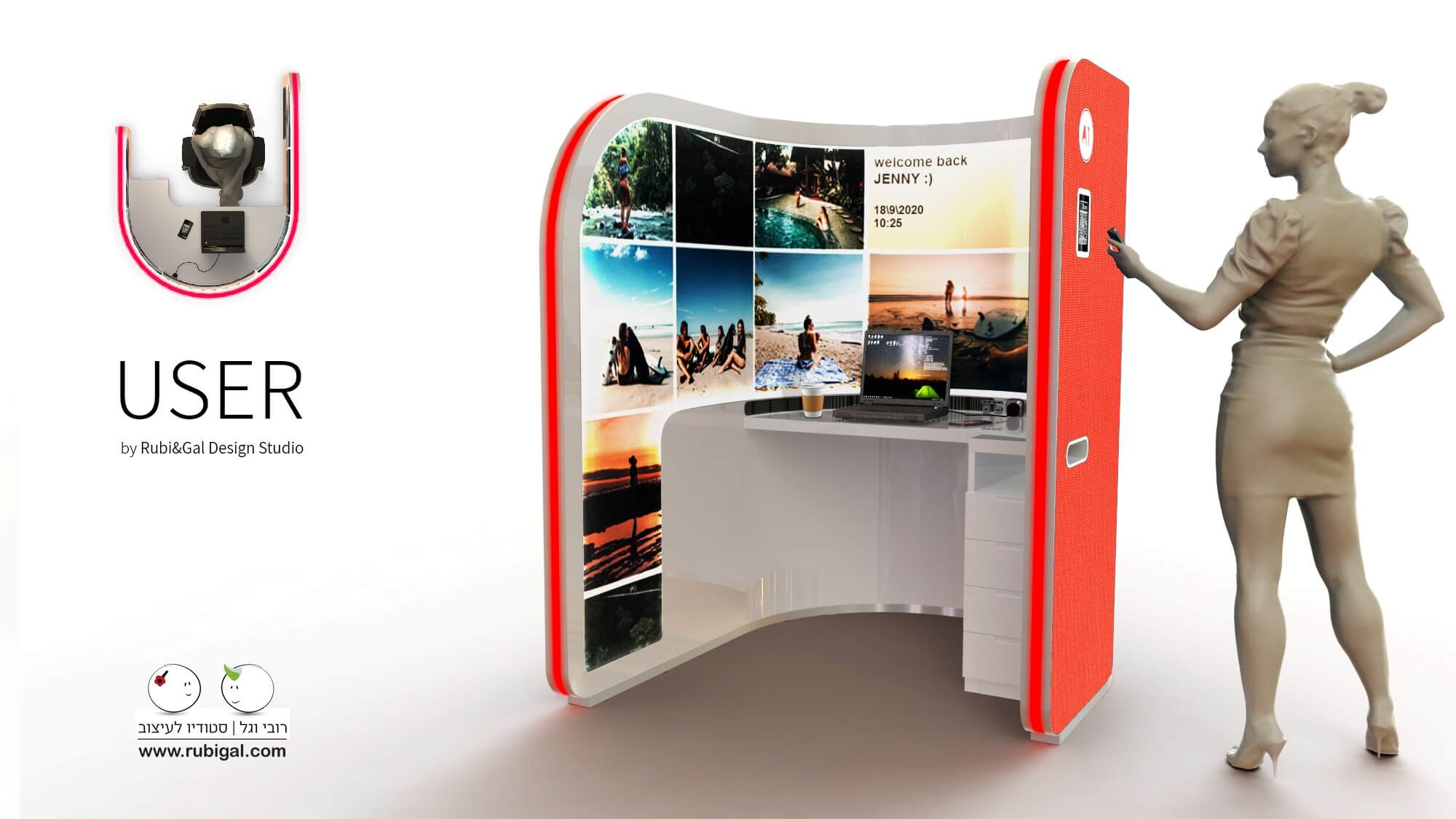 Here are additional highly commended office designs:
Zehavit Gold – Shells
Danna & Co. Roi Zalichovsky – Embracing Capsule
Or Rozenboim – H @ office
Yaniv Iwryn – Urban Office
Keren Chesler – Beehive
Lihi Yalin & Lena Krasnovsky – The Lamp
Danielle Fuchs & Yuval Altsholer – Moving Partition
Intu Studio – Urban Vibes
Shiri Shaked & Ilor Tepper-Kirshner – Inside the Gap
Yorai Cohn – Office Vaccine
Liora Segal Itzhaky & Limor Even Cohen & Luba Avezbakiev – Travel Kit
Ofir Sade Hollander & Yonatan Levy – Magnetize the Point
NS Studio – Naomi Shahar – Thermo-Map
Tomer Shlam – Customize Workspace
Sara Rotenberg & Shiri Zitzov – Dividers
Tamar Harel – Centered Ring
Shira Kinar – Build in & Out
Shiran Solnik & Nofar Kanfy – Nature Space
Mickey Otmazgin – Egg Mold
Yoav Ronat, Ariel Armoni & Lee Machnay – Theme Work
Yarden Elah & Eran Shoshan – Nomad Workspace
Shai Danino & Itzik Ladkani – Smart Floors
Yael Yaakobi – Innovation Society Nature
Safran Architects – The Matrix
Yael Nataf & Raz Kagan – NK Architects – Modular
Nadav Shchory – Flexibility Generator
EverBlock Israel
DSGH- Dor Schindler – The Round Table
Adir Asayag – Hybridizations
ARCHITCTWO – Changing Grid
Ariel Naor – Modular Stations
Lihi Bessler & Maor Gelbart – Moving Walls
Eliran Cohen & Hila Zrihen – AI Module
Neta Bittan Kafri – HOFFICE
Nilly Rischin – Natural contacts