By Alon Bar, Product Marketing Manager
As banks move data and workloads to the cloud, they need to ensure that cloud assets and data are secured and meet compliance with regulations such as those from the US's Federal Financial Institutions Examination Council (FFIEC) and the European Banking Association (EBA).
But modern cloud deployments are tremendously complex, typically spanning multiple clouds. So, while public cloud providers do invest extensive efforts into security, the bank still remains the one who is accountable for assuring the organization's cybersecurity.
This blog will present a real-life story from a large bank, the challenges they faced, and the solutions they leveraged to overcome the challenge and bolster their security posture.
Watch the Cybersecurity for Banks webinar on-demand.
This is our 3rd blog in the cybersecurity for banks series. To read the 1st blog, click here: Banks' top 8 cyber security challenges and how to overcome them.
As the cyber threat landscape continues to evolve and become more dangerous every year, protecting a bank's IT infrastructure will only continue to become more and more challenging. This third blog will focus on assuring a secure & compliant cloud migration
Achieving this goal entails multiple challenges:
Unified security management across clouds and an on-premise datacenter
Detecting and remediating misconfigurations in real-time
Streamlining and assuring governance
Meeting stringent compliance and privacy regulations
One of our customers, a South-American bank with thousands of branches, expands its Azure and AWS cloud with a unified cloud-native security solution.
The bank's main challenges included: managing & controlling security from one place, integration with other systems, easily creating rules & profiles, scalability, and consolidation.
The solution they chose includes Check Point's CloudGuard Network Security for secured cloud migration with cloud network security & threat prevention and Check Point's CloudGuard Security Posture Management for Regulatory compliance in the cloud. The bank automated posture management workflows across its multi-cloud environment with minimal effort.
The bank achieved a single cloud-native security solution for on-prem. & cloud gateways with single management, support for multi-cloud (Azure, AWS, NSX…), and unified security and posture management. They benefit from automated compliance & best practices, including enforcement of bank compliance frameworks such as PCI DSS, NIST CSF/800-53, etc., detection of misconfigurations, and enforcement of policies. The solution provides fast compliance results and log alerts, and its Governance Specification Language (GSL) builder is much easier to use than other tools in the market.
The bank leverages real-time threat prevention, including threat emulation, threat extraction, zero-day, antivirus, anti-bot, URL filtering, DLP, anti-spam, and so on.
And in addition, improved performance and reduced cost, with low latency for business apps, management & control from one central place, easy creation of rules & profiles, easy integration with other systems, and their TCO is 50% lower than with other solutions.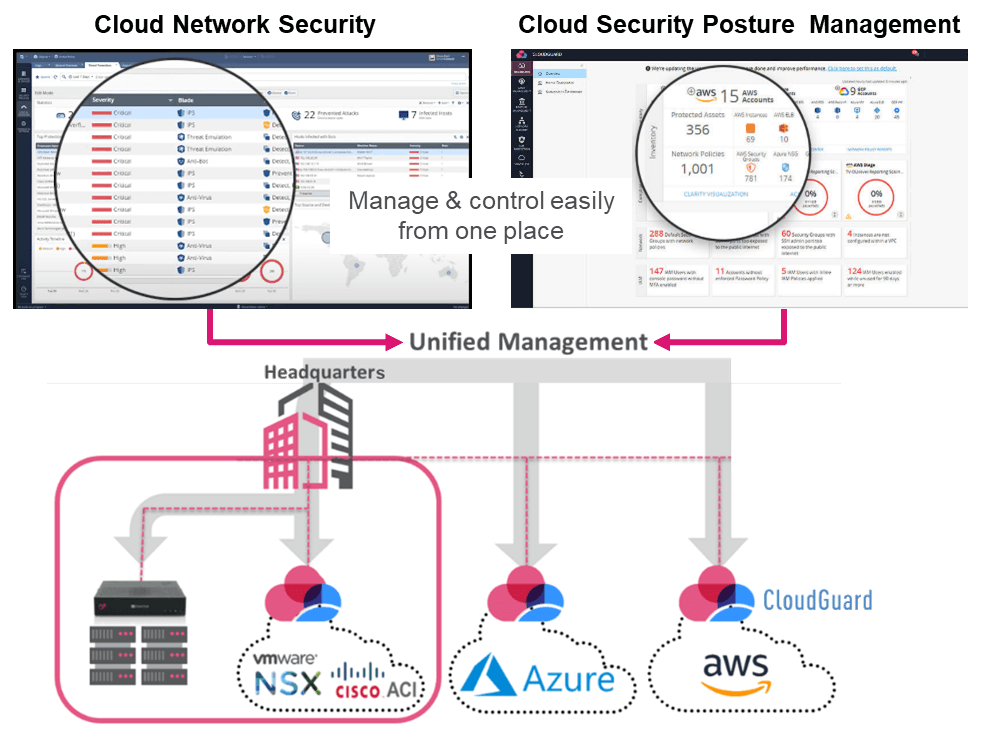 Check Point offers comprehensive security and compliance solutions for financial service organizations' multi-cloud environments. With CloudGuard Network Security, they get advanced, multi-layered cloud network security across public and private clouds.
Watch the Cybersecurity for Banks webinar on-demand.

In conclusion
Check Point enables banks to provide advanced digital services to their customers with the highest level of security to their network, cloud, users, and access, with the Quantum, CloudGuard, Harmony, and Infinity families of products.
By adopting a consolidated security approach with Check Point Infinity architecture and services, banks realize preemptive protection against advanced fifth-generation attacks while achieving a 50% increase in operational efficiency and a 20% reduction in security costs.
This broad cybersecurity offering of solutions and services from Check Point is enabling 6,500 financial institutions around the world to overcome their toughest challenges today.
To learn more about how Check Point is helping banks deliver superior digital experiences while assuring security and compliance, we invite you to watch the webinar on-demand and contact us.