By Alon Bar, Product Marketing Manager
Managing a bank's security operations is a complex undertaking entailing many tasks for keeping up with ever-changing security needs:
Integration with existing IT infrastructure and security tools
Translating demanding industry regulations into security frameworks easily and efficiently
Defining, accelerating, and enforcing ongoing policy update installations
Assuring operational efficiency amidst numerous time-consuming manual processes
Delivering quick security system upgrades and security gateways updates with no impact on business continuity
This blog will present two banks' stories, their challenges, and the solutions they leveraged to overcome the challenge and boost their security posture.
Watch the Cybersecurity for Banks webinar on-demand.
This is our 4th blog in the cybersecurity for banks series. To read the 1st blog, click here: Banks' top 8 cyber security challenges and how to overcome them.
Customer story: Banco del Pacifico increases security operations efficiency
Ecuador's Banco del Pacifico was seeking to bolster its defenses against cybercrime's escalating scale and growing sophistication. The bank turned to Check Point Infinity. The solution deployed includes a unified management console that delivers simplicity and consolidation across the bank's IT infrastructure, manages all corporate gateways, and integrates APIs with any application, for autonomous prevention.
The capabilities enabled include:
Automated operations for improved efficiency, visibility, & control
Consolidated security management with unified security policies
Multi-layered protection with centralized threat emulation & extraction and more
"We're constantly seeing new threats and examining the best technology on the market. We believe Check Point offers the best features in terms of solutions and security" – Jose Luis Nath, Vice-President of Technology and Security, Banco del Pacifico
Customer story: EMEA bank improves security operational efficiency while boosting security & compliance with BASEL, SOX, NIST, GDPR, and more
The Check Point solution deployed enables continuous monitoring of the security infrastructure, gateways, blades, policies, and configuration settings, all in real-time. This way, the bank can meet regulatory compliance and governance requirements while reducing security man-hours and driving increased security.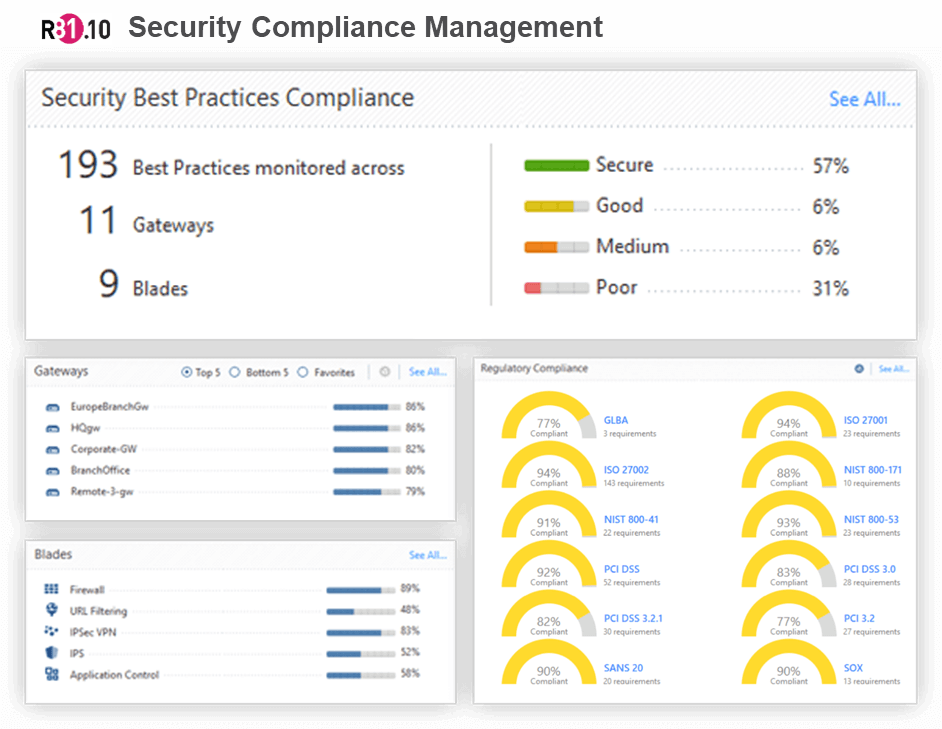 Check Point enables banks to cut operation management by up to 80% with unified security management across all cloud and network environments, as well as to centrally manage thousands of security gateways.
With the R81 Unified Cyber Security Platform, the industry's most advanced threat prevention and security management software, they get uncompromising simplicity and consolidation across the enterprise.
Watch the Cybersecurity for Banks webinar on-demand.

In conclusion
Check Point enables banks to provide advanced digital services to their customers with the highest level of security to their network, cloud, users, and access, with the Quantum, CloudGuard, Harmony, and Infinity families of products.
By adopting a consolidated security approach with Check Point Infinity architecture and services, banks realize preemptive protection against advanced fifth-generation attacks while achieving a 50% increase in operational efficiency and a 20% reduction in security costs.
This broad cybersecurity offering of solutions and services from Check Point is enabling 6,500 financial institutions around the world to overcome their toughest challenges today.
To learn more about how Check Point is helping banks deliver superior digital experiences while assuring security and compliance, we invite you to watch the webinar on-demand and contact us.
To read the previous blogs in this series:
Blog 1 – Banks' top 8 cyber security challenges and how to overcome them.
Blog 2 – Securing growing data centers and high-frequency trading platforms
Blog 3 – Assuring a secure & compliant cloud migration