By Noa Goldstein, Product Marketing Manager and Bar Yassure, Product Manager.
Is it time for a new endpoint security strategy?
The recent years have proved endpoint security to be more important than ever, with the move to remote and hybrid workforce expanding the attack surface and the recent conflict in eastern Europe bringing on a global rise in cyber-attacks. Today more than ever, a reliable endpoint protection EPP and Endpoint Detection and response (EDR) is crucial to your business security posture.
---
Start your Check Point Harmony Endpoint 30-day free trial today
---
In this blog we will discuss the 5 most important questions you should ask when considering your next endpoint security solution:
1. Is my organization protected from sophisticated, Zero-Day ransomware and Bot attacks?
Remote work and accelerated cloud adoption have created a global increase in ransomware attacks. Check Point Research detected a 93% increase in ransomware attacks and a 100% increase in ransomware payment from 2020 to 2021, with new sophisticated trends such as Ransomware-as-a-Service and Mobile Ransomware.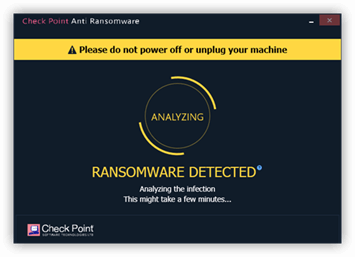 Figure 1: Harmony Endpoint blocks the most sophisticated ransomware attacks and restores infected files
Endpoint protection (EPP) and Endpoint Detection and Response (EDR) serve as the first and last line of defense against the growing wave of such attacks. Once a user's PC or laptop is infected, the threat can move laterally and easily infect other endpoint devices and corporate assets.
Your endpoint security solution should have a runtime protection against ransomware with instant automated remediation, even in offline mode to block and remediate the full attack chain.
---
Start your Check Point Harmony Endpoint 30-day free trial today
---
2. Is my endpoint security solution compliant with existing and new regulations?
Strong regulation compliance provides the confidence that your endpoint security solution is safe and dependable for a world-wide use.
In the light of new regulations that have emerged due to the current geo-political situation, you should confirm that your endpoint security solution is compliant and is safe to use.
3. Is my endpoint security solution proved to be effective in detecting Russian-base threat groups by the 2022 MITRE evaluations?
The MITRE evaluations simulate real world cyber threats to test endpoint security solutions' performance.
In this year's test, MITRE Engenuity chose to emulate attacks by the Russian based threat groups Wizard Spider and Sandworm. These groups have been using sophisticated malware and tactics to launch attacks against financial services and hospitality organizations over the past five years, resulting in the theft of more than $1 billion across hundreds of businesses.
Your endpoint security solution must be able to detect and response from such attacks, therefore we recommend that you look into the latest MITRE evaluations results as presented in the graph below.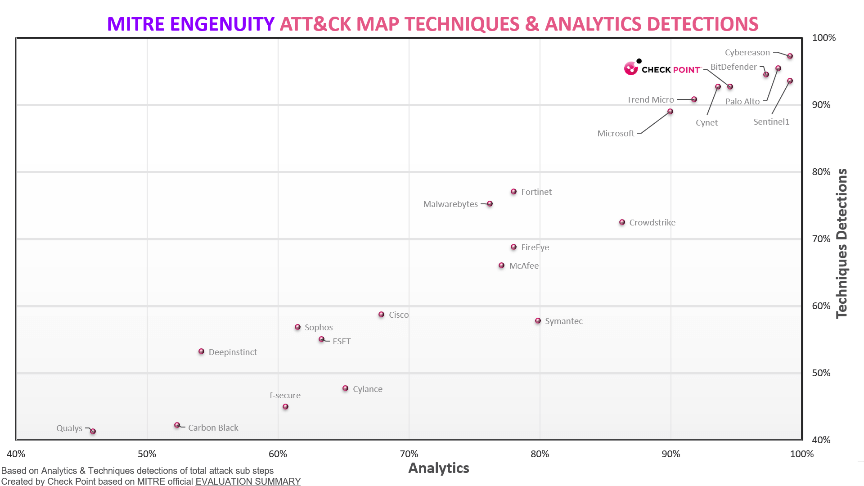 Figure 2: Check Point Harmony Endpoint has been recognized as a leader in the 2022 MITRE evaluations with a 100% detection across all attack steps
---
Start your Check Point Harmony Endpoint 30-day free trial today
---
4. How do I ensure all incoming files are safe without impacting employees' productivity?
In a fast-paced world, organizations cannot allow themselves to waste any minute on inspecting incoming files from email, web or removable devices, and yet, allowing files to be downloaded to users' PCs and laptops before engines inspect them is a risk that organizations cannot take. Your endpoint security solution must have an automatic file sanitization feature, also known as Content Disarm and Reconstruction (CDR) or Threat Extraction. This way, attacks are proactively prevented by removing exploitable content from documents, while delivering sanitized versions of the files within seconds to ensure business continuity.
Figure 3: Harmony Endpoint safely delivers sanitized files within seconds
5. Is my endpoint security solution protecting my organization from phishing attacks, even the ones that have never been seen before (i.e. Zero-Day phishing)?
Humans are the weakest link in the cybersecurity kill chain. And in an era where social engineering is constantly used by hackers to trick unsuspecting users into providing sensitive information, staying one step ahead of hackers becomes even more critical. To properly combat this trend, you must have a solution in place that prevents credential theft and fraud, also for unknown phishing sites.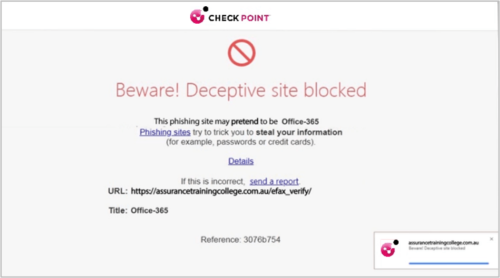 Figure 4: Harmony Endpoint detects and prevents
---
Start your Check Point Harmony Endpoint 30-day free trial today
---
Not all endpoint security solutions are the same, choose wisely.
Harmony Endpoint is a complete endpoint security solution built to protect the remote workforce from today's complex threat landscape. It prevents the most imminent threats to the endpoint such as ransomware, phishing or sophisticated malware, while quickly minimizing breach impact with autonomous detection and response.
This way, your organization gets all the endpoint protection it needs, at the quality it deserves, in a single, efficient, and cost-effective solution.
Harmony Endpoint has been recognized as a worldwide Major Player in the 2021 IDC MarketScape for Enterprises & SMBs and as a leader of the 2022 MITRE Engenuity ATT&CK® Evaluations.
We invite you to watch the product tour and try Harmony Endpoint today.
---
Start your Check Point Harmony Endpoint 30-day free trial today
---