Check Point Research highlights the potential rise in the number of people engaged in illegal work typically offered in the Darknet and on hacking forums
The norm for the Darknet and hacking forums is vendors posting opportunities for work.
CPR has observed the opposite trend: individuals offering to assist in cybercrime, in exchange for money. Since the advent of 2021, CPR has found dozens in recent months in selected hacking forums and Darknet
It's 2021, and the world continues to battle with Covid-19. The death toll in the US recently crossed half a million and the number continues to grow. In the meantime, lockdowns continue to be common across Europe, with Italy, France, Spain and Greece having different lockdown arrangements.
Unsurprisingly, the impact of the pandemic on the global economy has been dramatic. Most major economies have lost at least, if not more, than 2% of their GDP. The global stock markets have suffered dramatic falls due to the outbreak, and the Dow Jones reported its largest-ever single day fall of almost 3,000 points on March 16, 2020. As economies suffer, unemployment rates have increased too. In the US, unemployment peaked to unprecedented levels in April 2020 at 14.8% before declining to 6.7% in December. In Europe unemployment rose from 6.5% to 7.5% over the course of the year.
Within this backdrop, Check Point Research noticed a growing trend that began towards the end of 2020 and continues to develop in 2021 – people are turning to the Darknet and various hacking forums to offer their services and availability for work for any kind of work available, including less than legitimate roles.
Turning to the Dark
Usually, within the Darknet market and hacking forums, it is the vendors that are offering openings to those who are interested to apply. These job opportunities are arranged in a format similar to eBay and Amazon, complete with features like advanced reputation, search and shipping. Below are just some examples of these: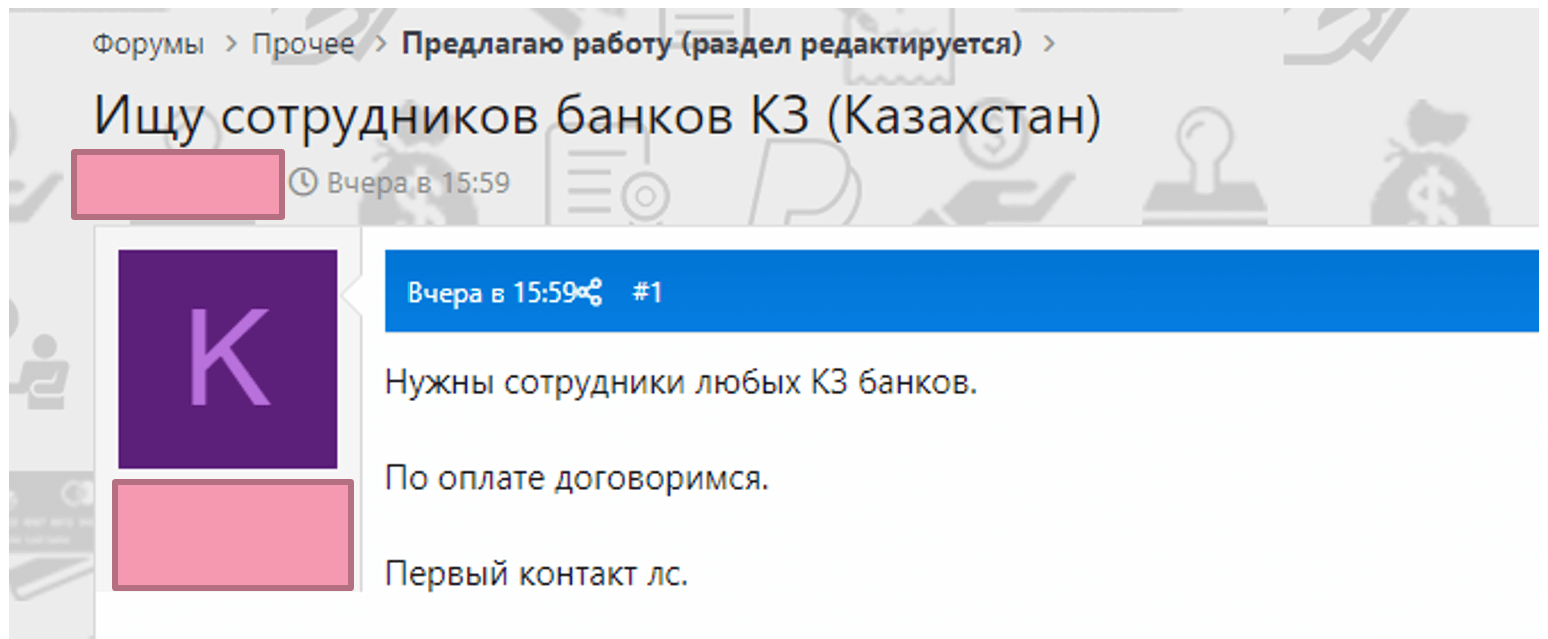 This poster is seeking employees from any Kazakhstan bank and will agree on payment with the applicant after they get in touch.
However it looks like the tables have turned. From the beginning of 2021, we noticed that there was an increase in the number of individuals taking the initiative to send out ads seeking work. In fact we started observing 10-16 new ads being placed monthly in select hacking forums.
Here are some examples: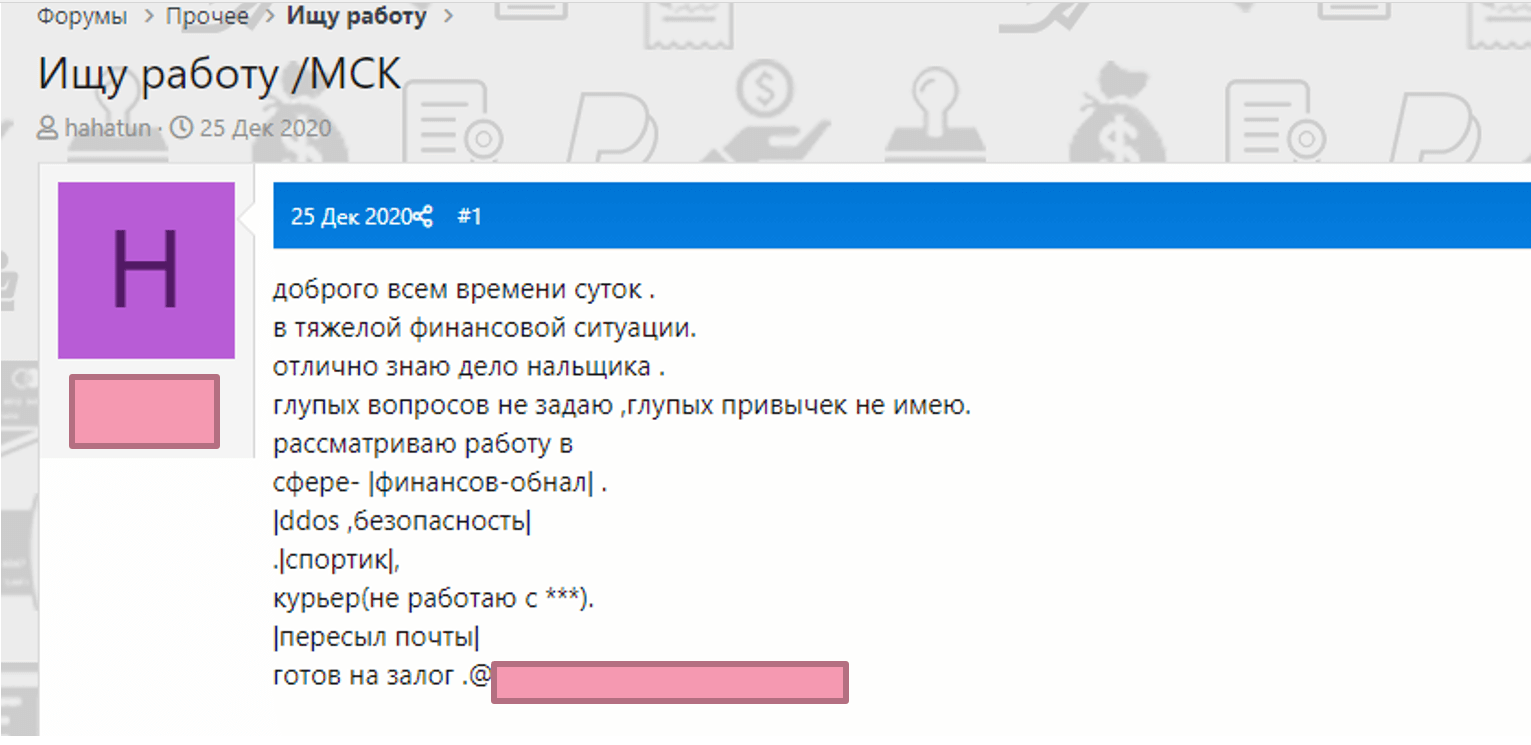 This jobseeker, who says he is in a difficult financial situation, is offering to work in the sphere of "financial cash out, DDOS, security" and promises not to ask too many stupid questions.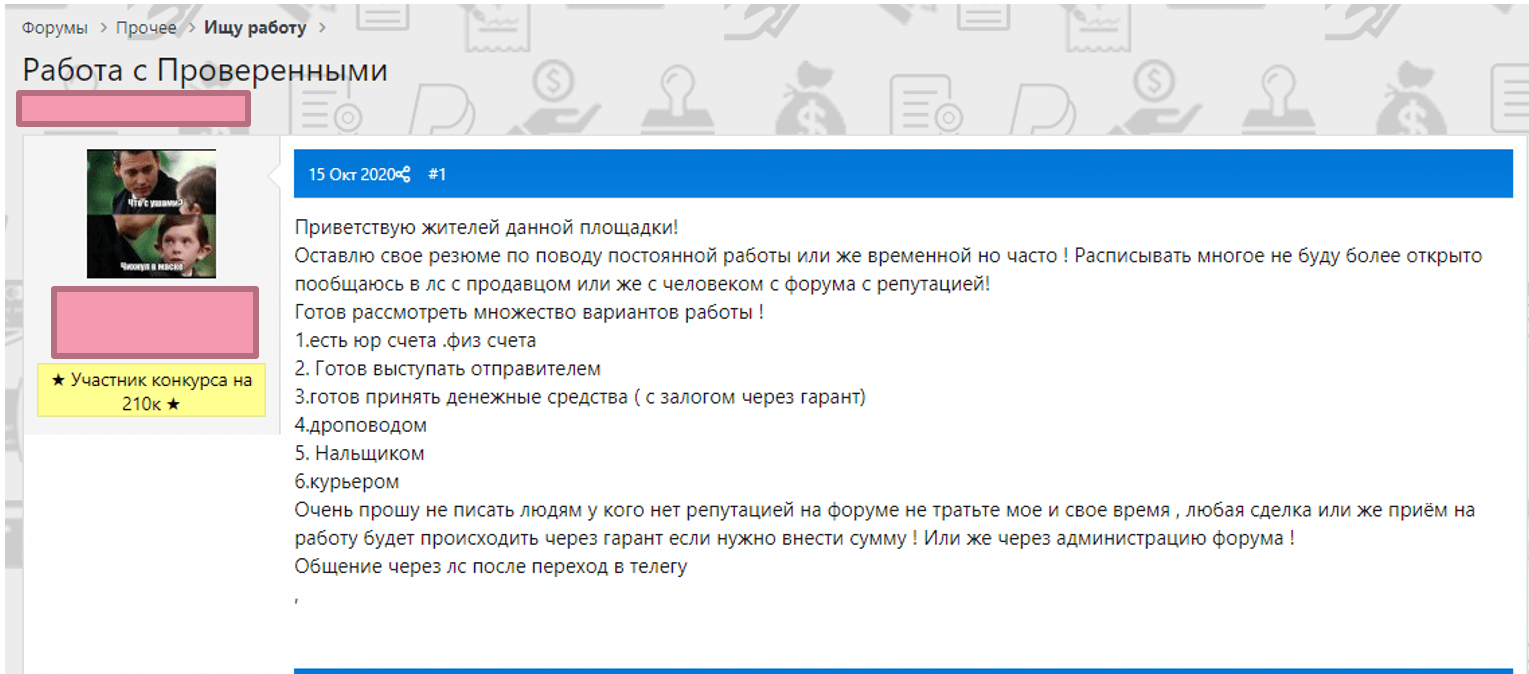 Conclusion
The Darknet functions primarily as the black market of the Internet and is typically involved in transactions involving drugs, cyber-weapons, forgery and more. Unfortunately, in desperation, some job seekers are willing to participate in such illegal work if it means being able to earn an income. From our research, you can see that people from different parts of the world are offering their abilities, expertise and availability on these platforms. As countries grapple with the realities of a struggling global economy, it is important they also turn their attention to the underground job marketplace that is growing.