From reluctant to embracing, a majority of organizations have seen an explosion in remote work since the pandemic began. And some, like Check Point, are permanently transitioning to a hybrid work model.
Here are four ways the office-of-one has affected organizations and how new needs can be met, based on a new global survey of 450 IT and security professionals: 
#1 Not just hype – Remote work makes you more vulnerable
According to 45% of all respondents, cyber attacks have increased since Covid-19. And the most cited types of attacks were data exfiltration and leakage (55%), phishing emails (51%) and account takeover (44%).
Considering that most companies don't provide the same level of protection within and outside the corporate firewall, this is not entirely surprising. For example, when working outside the office, users may casually browse to a malicious ad or click a phishing link from a personal email; yet their internet traffic may not be inspected and blocked for malicious URLs. By routing all traffic for security inspection, for example, through a cloud secure web gateway (SWG) integrated with a cloud DLP, this extra risk can be mitigated.
#2 Traditional solutions are strained by remote work needs
When supporting remote work, the top three administration challenges reported were scaling performance (46%), addressing privacy and data sovereignty concerns (42%) and supporting remote access for employees' unmanaged devices (40%).
Whereas cloud-based security and networking services can alleviate congestion and improve application speed and performance, privacy and compliance concerns can be addressed by using local points of presence (PoPs). With the emergence of service-initiated zero trust network access (ZTNA) from the cloud, organizations can support clientless remote access from unmanaged BYOD devices, including devices used
by third parties (such as partners and consultants) without the need to install or manage an agent.
#3 Remote Worker complaints point to connectivity issues 
The most common reasons for help desk tickets were performance (latency) (67%), instability and crashes (66%) and VPN issues (62%).
While connection speeds and performance can be improved with network optimization solutions such as SD-WAN, moving from a client-based to clientless remote access solution can eliminate VPN-related issues caused by VPN clients.
#4 The pressure is on to add remote access capacity
To handle the spike in remote working, 69% of security professionals report they are adding on-prem capacity; 66% are moving to cloud-based security and surprisingly, 36% do both.
For expediency, it may be easier to add capacity to current solutions, rather than rip out and replace them with completely new ones. Alternatively, this may reflect a phased approach to adopting cloud-based services or may be a result of data residency considerations.
Of those using cloud to beef up remote access, (61%) perceive cloud-based security services as highly strategic in their overall efforts to scale secure remote user access. And already today one-third of organizations have already implemented or are planning to implement secure access service edge (SASE) services.
For more survey results, download the full Remote and Hybrid Work Security Report or check out the infographic.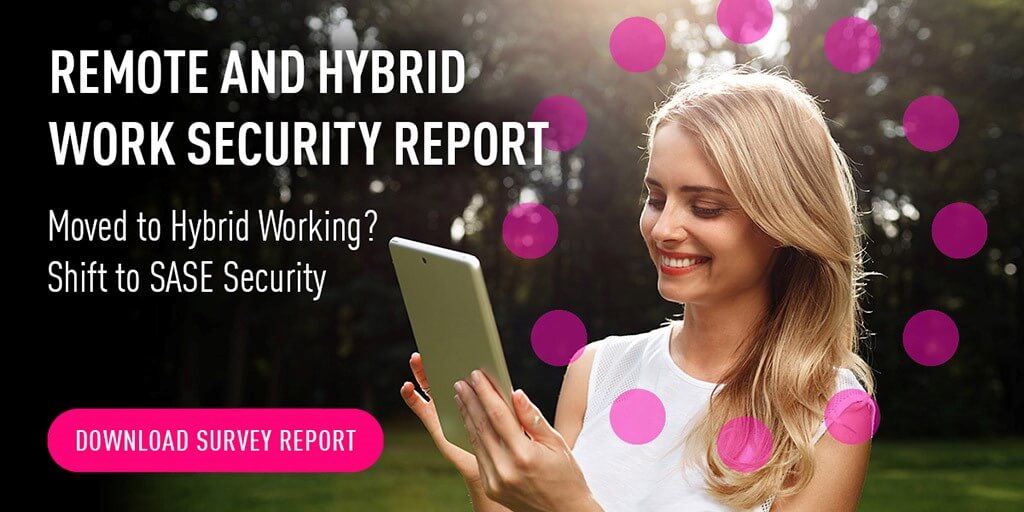 Conclusion: Hybrid Workplaces Need SASE Solutions
The spike in cyber attacks, the added complexity of ensuring privacy for remote workers and the need to know what users are actually doing, even when they connect from their own devices, may all seem to be separate issues to be tackled one by one.
However, in a SASE architecture conceived for remote workers, offices, and applications, the myriad security services that would have been required to address these issues are unified and delivered from the cloud. This lets you connect any user or branch, from any device, to any target resource, without compromising on security.
Collectively known as SASE, it may be time to explore how security services, such as ZTNA, SWG and branch office FWaaS and SD-WAN can help you secure your remote and hybrid workforce.
To brush up on SASE, see ESG's Guide to Adopting SASE Network Security or learn about Harmony Connect, Check Point's industry-leading security technology now available as a cloud service.