This week's news focuses on the business of mobile. Unlike most weeks, where we touch on a new strain of mobile malware or a new vulnerability – this week presents a different point of view on mobile security. It's critical to keep up to date with this sort of events, as in the long run they will undoubtedly impact all aspects of mobile security in the enterprise.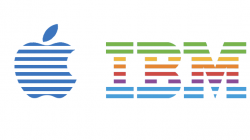 IBM Deal Could Help Apple Become An Integral Part Of Enterprise Infrastructure
Apple has announced a strategic partnership with IBM that will see the enterprise giant transfer over 150 of their enterprise and IT apps and tools to Apple platforms natively, and will also have IBM selling Apple iPhones and iPads to its business clients all over the world.

This isn't about owning the general office; it's about turning Apple's software and devices into the core functional software in every vertical possible. There are very few details about the depths of the deal and which areas will be targeted, but security will undoubtedly be part of the operation.

http://www.theverge.com/2014/7/15/5902745/apple-ibm-want-to-make-ios-king-of-the-office

Why is this Significant?
At first glance, Apple's partnership looks to be a more far-reaching overture to enterprise than that Google is making with Android L, but we'll have to wait and watch how both arrangements shake out when they start to hit the market proper this coming Fall.

Apple has finally made a real attempt to make their mark on the enterprise world and take Blackberry & Android down a rung or two.

Apple has a new registered patent that describes a method for locking a device or asking a user for proof of their identity if the device detects a pattern of unusual behaviour.

This is a security method that goes beyond the standard PINs and passwords, enabling a device to identify triggers such as specific grammar habits, vocabulary, motion sensor information and particular gesture entry style to build a profile of who you are as a mobile device user. Any deviation from that established pattern will then prompt the phone to take action.

http://techcrunch.com/2014/07/17/apple-patents-a-way-for-your-iphone-to-lock-out-users-whose-behavior-it-doesnt-recognize/

Why is this Significant?
While nowhere near ready – this is definitely an interesting direction for the future mobile security. It combines several different elements that currently exist via different systems and solutions. We obviously can't tell if it's meant to integrate with current iOS security measures or replace them completely. Either way, watch this space.