By Russ Schafer, Head of Product Marketing, Security Platforms
The coronavirus pandemic has led enterprises to quickly enable their employees to work remotely from home. This increase in remote workers is similar to the transition happening in enterprise Wide Area Networks (WAN). Enterprises are turning away from traditional WAN architectures and are adopting Software-defined WAN (SD-WAN) to optimize access to cloud SaaS applications like Office 365 and video conferencing. Employees who are remote have a better experience when connecting to cloud applications through their local Internet providers instead of backhauling that traffic through the data center over MPLS lines. Local internet connections reduce network latency and save costs.
Unfortunately, the significant increase in the number of remote employees has extended the network perimeter and expanded the cyber-attack surface. CISOs have to rethink their network strategy since traditional methods of securing corporate networks are no longer effective. They need to protect branch connections to local internet providers from the same sophisticated and multi-vector Gen V cyber attacks that impact the datacenter.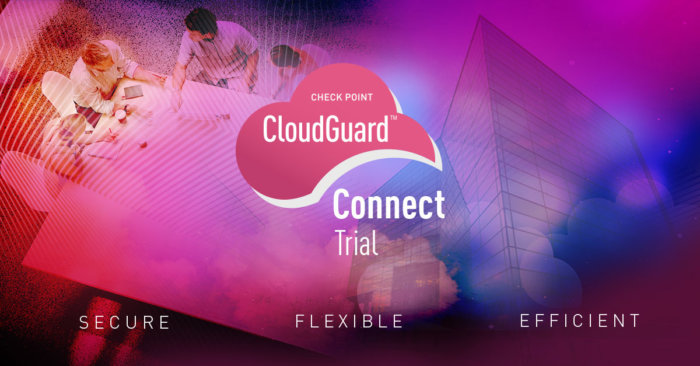 Check Point and Aruba Protect Branch SD-WAN Internet Connections
To address these challenges, Check Point and Aruba, a Hewlett Packard Enterprise company, have joined forces to provide an integrated and secure SD-WAN branch office solution that is automated, scalable, and cost-effective. Together, Check Point and Aruba deliver an integrated SD-WAN solution with advanced threat prevention, unified security management that maximizes SD-WAN network performance and reduces costs.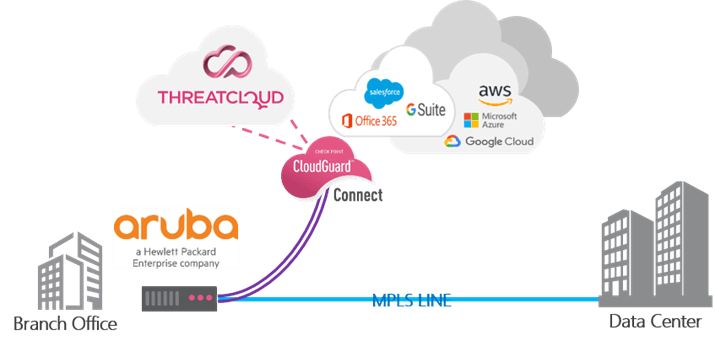 Aruba provides best-in-class wireless, wired, and WAN infrastructure with management capabilities that include assurance and orchestration features to help maximize performance and minimize operational costs. The integration with Check Point CloudGuard Connect brings advanced cloud-hosted security to the branch with advanced threat prevention, dynamic scalability, intelligent provisioning, and consistent control across physical and virtual networks.
Aruba SD-WAN provides optimized connectivity from the remote or branch office all the way to the cloud. CloudGuard Connect seamlessly integrates with the Aruba Central SD-WAN orchestrator console to provide enterprises with:
Advanced branch security, without additional hardware investment or installation time
Rapid deployment of branch locations, with the highest level of security
Real-time forensic and event investigation with Check Point's ThreatCloud
Aruba-validated interoperability for seamless integration and quick setup
Whether you're working at the branch office or the home office, Check Point and Aruba can accelerate your transition to the cloud and increase agility through a comprehensive network security solution to secure your SD-WAN connections to the cloud.
To learn more about how Check Point and Aruba secure SD-WAN cloud connections, check out the Aruba SD-WAN and Check Point partner page, sign up for a demo, tune into the video, and read the solution brief.