By Russ Schafer, Head of Product Marketing, Security Platforms
Enterprises are moving their applications, workloads and services out of the data center into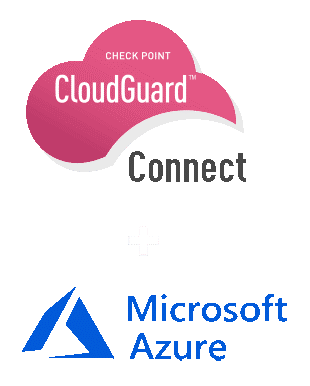 the cloud. As enterprises become more distributed, organizations need flexible solutions that deliver secure and predictable application performance across a global footprint. Companies need to securely connect their branch offices to the Internet and SaaS cloud applications. In addition, the increase in remote workers caused by the Coronavirus makes the need to connect securely to both cloud and data center applications from anywhere around the globe even more important.
At Microsoft Inspire this week, Check Point showcased CloudGuard Connect as a Trusted Security Partner for the new Microsoft Azure Firewall Manager. With CloudGuard Connect cloud-delivered security services now hosted on Azure, customers get optimal connectivity and security across the globe.  Microsoft Azure customers can seamlessly deploy Check Point CloudGuard Connect threat prevention to secure their branch office and Azure Virtual Network (VNet) connections to the Internet.
For a preview, check out this brief video that shows how the Check Point CloudGuard Connect and Microsoft Azure Firewall Manager integration works.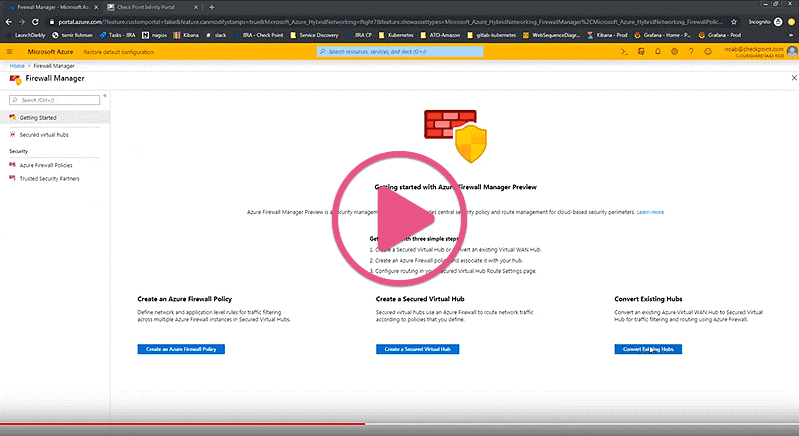 CloudGuard Connect Top-Rated Cloud-Delivered Security

Check Point CloudGuard Connect provides organizations of all sizes with advanced threat prevention security across data center, cloud, and mobile, reducing complexity and lowering total cost of ownership. Check Point protects enterprises from sophisticated cyber-attacks with:
Top-rated Threat Prevention with 100% Block Rate across. Check Point achieved the highest security effectiveness score in the 2019 NSS Labs Breach Prevention Systems (BPS) group.
Innovative security solutions that combine cloud-hosted patented CPU-level inspection and OS-level sandboxing to prevent infection from the most dangerous zero-day and sophisticated Gen V attacks
Real-time security Intelligence from ThreatCloud. ThreatCloud gathers threat intelligence from 86 billion security decisions, 4 million file emulations, and 7000 Zero-Day attacks every day.
Flexibility to deploy branch office security across multiple locations in a few minutes
A unified threat and access management platform that can reduce operational expense by up to 40%
Sign up for a FREE DEMO to see how CloudGuard Connect secures Azure Internet Connections
Protect Azure Virtual Networks and Branches with CloudGuard Connect
Microsoft Azure Firewall Manager is a new security management service that provides central security policy and route management for cloud-based security perimeters. Global admins can centrally create a hub and spoke architecture and associate security and routing policies with this Secured Virtual Hub.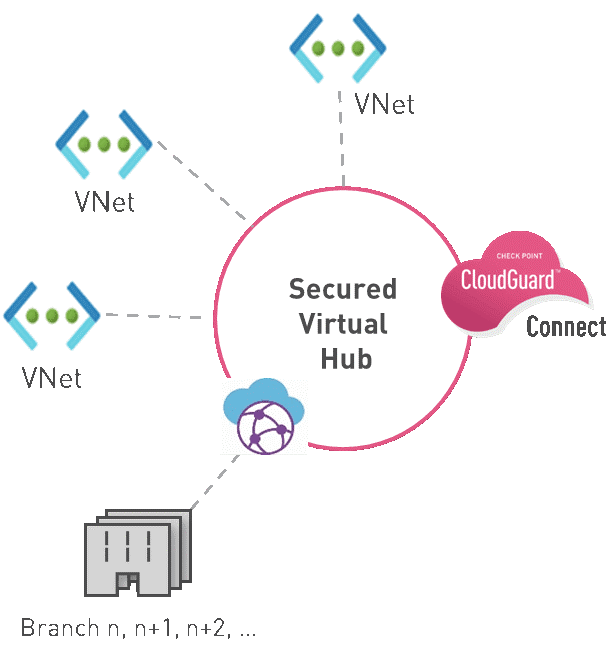 Check Point CloudGuard Connect, a Trusted Security Partner in Azure Firewall Manager, protects globally distributed branch office locations or virtual networks with advanced threat prevention. With a simple configuration in Azure Firewall Manager, you can route branch hub and virtual network connections to the Internet through CloudGuard Connect.  The result is:
Seamless branch office security to any Azure region across the globe
Uniform security policies across your network
The ability to provision and secure thousands of sites within minutes
Microsoft Azure Firewall Manager is now generally available and you can start implementing
Check Point CloudGuard Connect today.  Here is a guide on how to get started today!