By Alon Bar, Product Marketing Manager
With remote users connecting to corporate applications more than ever, the organization's attack surface has never been wider.
To assure advanced protection of its remote workforce, a bank must secure:
All devices, including tablets, mobile, BYOD, and managed devices
Users while browsing the internet and using email and collaboration apps
Third parties, including contractors, consultants, and partners accessing devices and applications
And, they must ensure zero-trust access to corporate applications from anywhere.
This blog will present four real-life banks' use cases, their challenges, and the solutions they leveraged to overcome the challenge and boost their security posture.
Watch the Cybersecurity for Banks webinar on-demand.
Customer story: RCB Bank enables employees to work securely using personal mobile devices
RCB Bank is a community bank founded in 1936 as Rogers County Bank, headquartered in Claremore, OK, with locations across Oklahoma and Kansas.
For its remote workforce protection, RCB Bank selected Harmony Mobile, which enables the bank with:
Complete protection from network attacks, incl. phishing, smishing, and others, blocking non-compliant devices and OS vulnerabilities
Enhanced compliance with GDPR and full protection of user privacy
Simplified management with visibility and remediation tips
High scalability with MDM integration for zero-touch deployment for hundreds of employees
"Harmony Mobile proved itself. It's an effective, affordable solution that protects us in ways that our container solution alone could not accomplish."
– Stacy Dunn, Information Security Analyst, RCB Bank
Customer story: SEB Baltics protects thousands of endpoint devices with the highest level of security
SEB is one of the largest banks in the Baltics, managing millions of private customers, SMBs, and corporate accounts across a few countries.
With Harmony Endpoint, SEB is benefiting from:
Complete endpoint protection & EDR with a consolidated security architecture providing real-time threat prevention
90% automation of attack detection, investigation, and remediation tasks
Ransomware protection with automated remediation and recovery from ransomware attacks
High productivity with Content Disarm and Reconstruction (CDR)
Reduced TCO with a single solution that includes advanced monitoring and reporting to ensure rapid problem solving
Customer story: Canal Bank protects hundreds of remote users of Office 365 email & collaboration apps with a seamless experience
With offices across Panama's nine provinces, Canal Bank has served commercial clients and small organizations, providing a variety of services to its customers at branch offices and online.
Email and collaboration apps have become the most fundamental tools for businesses these days.
Not surprisingly, it is also one of the most exploited channels by cybercriminals, with Business Email Compromise (BEC) attacks accounting for over 50% of losses caused by cybercrime.
To mitigate the risk and avoid the damage of BEC and other attacks to its remote workers, Canal Bank selected Harmony Email and Collaboration to achieve:
Improved security
Within the first year, the bank stopped 1400 phishing attacks and defended against 800 malware attacks without impacting productivity.
Simple deployment & management
Deployment completed within minutes for instant protection, and reports provide ongoing visibility into threats.
Reduced TCO
Only one solution is required for securing email, SharePoint, Teams, OneDrive, and more, including protection against malware, phishing, sensitive business data (DLP), malicious links, account takeover, and more
"Check Point Harmony Email and Office enable us to not only achieve our security goals, but discover other application issues that we had not been aware of"
– Erick Garay, CIO, Canal Bank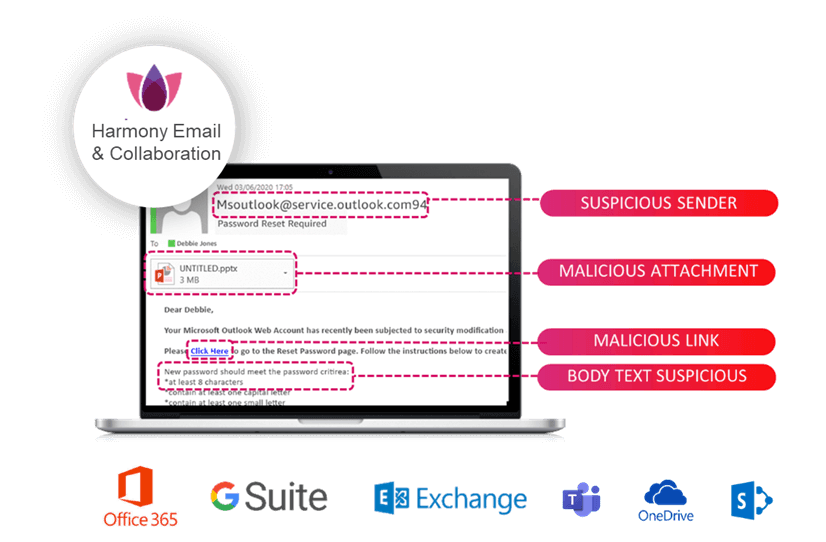 Customer story: EMEA bank enables secure access to corporate applications from any device anywhere
With Harmony Connect, this EMEA bank is leveraging:
Zero-Trust Access
With least-privilege access to web apps, secure Shell servers, remote desktops, and databases across multiple groups
For Splunk, Internal WeApps, AWS resources, and more
Enabling security admins to track user activity with fully recorded sessions and audit trails
Clientless Access
Enabling hundreds of employees and contractors with access from any device via friendly UI
Cloud-delivered security
That is highly available and scalable
With no impact on the browsing experience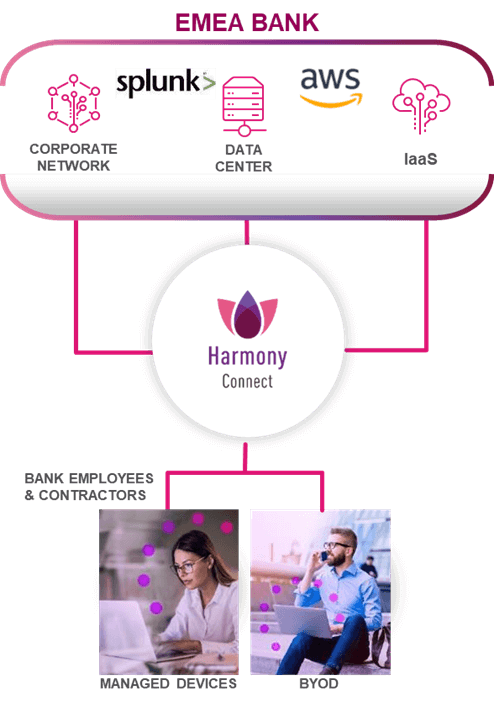 Solutions for enabling the secure remote workforce
The Check Point Harmony family of products provides uncompromised protection and simplicity for the financial services sector and includes:
Harmony Endpoint for comprehensive endpoint protection at the highest security level and for avoiding security breaches and data compromise.
Harmony Mobile for complete protection of the mobile workforce, with simple deployment, management, and scale.
Harmony Connect for easily connecting any user to any resource, anywhere, without compromising security.
Harmony Email and Collaboration for complete protection of Office 365, Teams, OneDrive, SharePoint, and Google Drive, using the Avanan technology.
Watch the Cybersecurity for Banks webinar on-demand.

In conclusion
Check Point enables banks to provide advanced digital services to their customers with the highest level of security to their network, cloud, users, and access, with the Quantum, CloudGuard, Harmony, and Infinity families of products.
By adopting a consolidated security approach with Check Point Infinity architecture and services, banks realize preemptive protection against advanced fifth-generation attacks while achieving a 50% increase in operational efficiency and a 20% reduction in security costs.
This broad cybersecurity offering of solutions and services from Check Point is enabling 6,500 financial institutions around the world to overcome their toughest challenges today.
To learn more about how Check Point is helping banks deliver superior digital experiences while assuring security and compliance, we invite you to watch the webinar on-demand and contact us.
To read the previous blogs in this series:
Blog 1 – Banks' top 8 cyber security challenges and how to overcome them.
Blog 2 – Securing growing data centers and high-frequency trading platforms
Blog 3 – Assuring a secure & compliant cloud migration
Blog 4 – Simplifying compliance and the complexity of security operations
Blog 5 – Securing advanced e-Banking services